Pork Fillet Recipe with Fennel and Tomatoes
Make this deliciously tender pork fillet, perfectly matched with fennel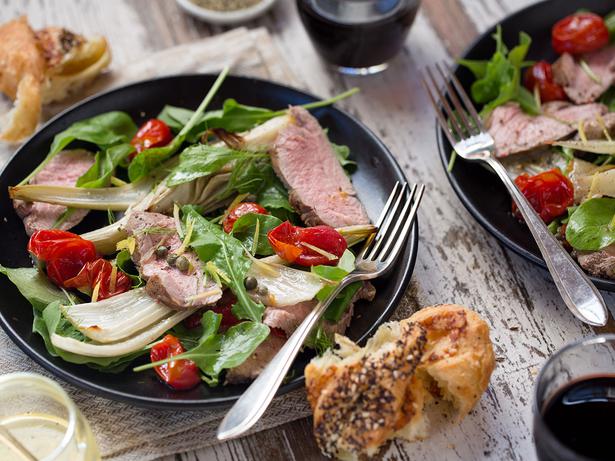 Friday April 7, 2017
Pork and fennel are a match made in heaven. Whether you slow-cook a shoulder with fennel and your favourite vegetables, or slice a fillet thinly as I have here, the taste is always sublime. I love to use a fillet for a quick meal. There is no fat or wastage, and every bite is delicious and tender.
PORK FILLET RECIPE WITH FENNEL AND SQUASHED TOMATOES
Serves 4
Dressing
4 Tbsp olive oil
2 tsp lemon zest
2 Tbsp lemon juice
1 Tbsp honey
Salad
1 bulb fennel, cut lengthways into 8
2 Tbsp olive oil
200g cherry tomatoes
2 Tbsp capers
1 pork fillet, trimmed
100g rocket leaves
Salt and pepper
1. Preheat an oven to 180C. Line an oven tray with baking paper.
2. To make the dressing in a jar, combine the olive oil, lemon and honey, shaking well.
3. Place the fennel on the tray. Rub with the oil, season and place into the oven for 25 minutes. Add the tomatoes and capers to the tray and bake for a further 10 minutes until the tomatoes have softened. Remove from the oven.
4. Brown the pork fillet in a frying pan, then place into the oven for 15 minutes. Remove and let rest for 10 minutes.
5. Sprinkle the rocket on to a platter. Add the fennel and tomatoes. Slice the pork and place on top. Season with salt, pepper and drizzle the dressing.
Be inspired by the good things in life. Sign up now to receive emails from Viva, and twice a week you will be sent the latest news, profiles, videos, fashion shoots, competitions and more.
Share this:
More Food & Drink / Recipes