Warm Pork Fillet Recipe with Parsnip, Leek, Carrot and Halloumi
Try this delicious recipe from Angela Casley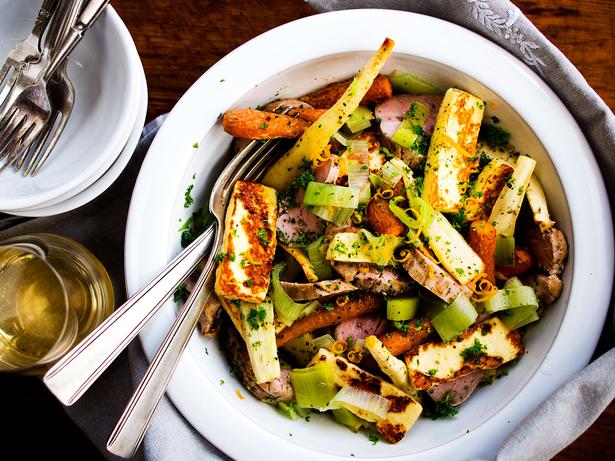 Friday July 11, 2014
WARM PORK FILLET WITH PARSNIP, LEEK, CARROT AND HALLOUMI
Serves 4
2 parsnips
450g baby carrots
2 Tbsp olive oil
2 tsp Tuscan herbs
1 pork fillet, seared in a frying pan
Salt and pepper, to season
1 leek, sliced thinly
200g halloumi
Zest and juice of 1 lemon
2 Tbsp olive oil
¼ cup chopped parsley, to garnish
1. Preheat oven to 180C.
2. Peel and chop parsnips into even sizes. Place in an oven tray with carrots, mix through oil and Tuscan herbs. Place in oven for 10 minutes. Season and sear pork fillet then add to vegetables and continue to cook for 15 minutes until pork is just cooked. Remove to rest.
3. Cook leeks in boiling salted water and drain. Toss through vegetables.
4. Cut halloumi into half-centimetre slices. Fry in a hot pan for 30 seconds each side to brown, remove.
5. Slice pork on a diagonal into thin slices. Place vegetables, halloumi and pork on a platter. Sprinkle with lemon zest and a squeeze of lemon juice, drizzle with oil and scatter on the parsley.
Share this:
More Food & Drink / Recipes