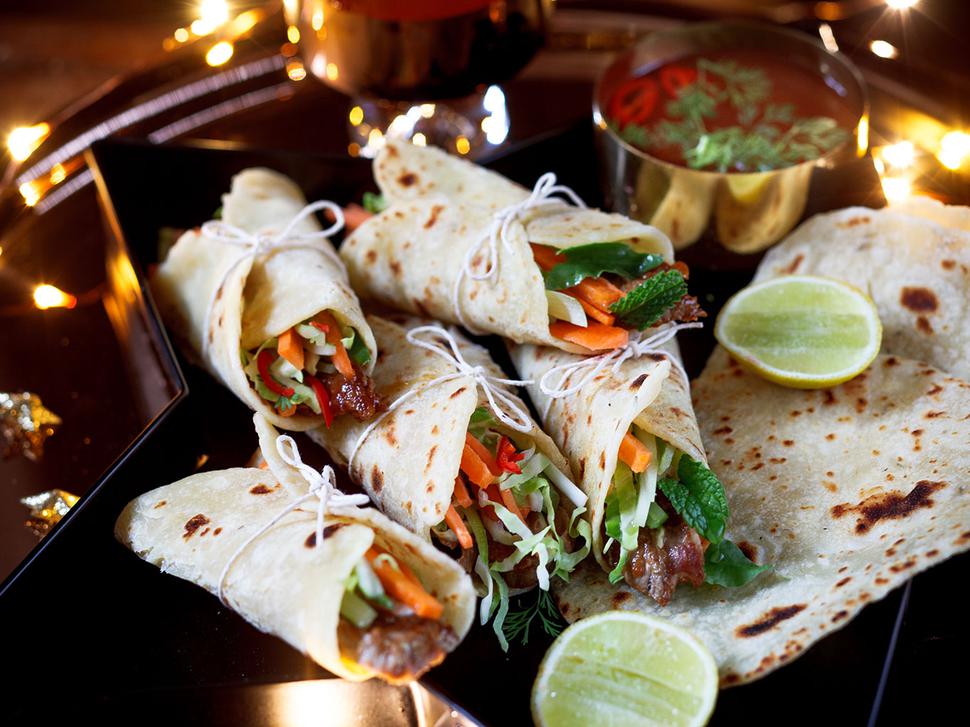 Pork Tortilla Recipe
These pork tortillas are a substantial bite, says Angela Casley
Friday Dec. 4, 2015
If you have never tried making flatbreads, these rolled tortillas with their pork filling is the perfect recipe. Five minutes prep time, straight into a hot pan and they are ready to eat. Although tortillas are delicious hot, for this recipe let them cool then roll with the filling. With the shredded fresh pork, they are a substantial bite.

PORK TORTILLA RECIPE
Makes 18
Flatbreads
• 2 cups plain flour
• ½ tsp salt
• 50g butter
• ¾ cup milk
• 1 Tbsp olive oil
Filling
• 1 pork fillet cooked and shredded
• 1/3 cup hoisin sauce
• ½ cup chopped coriander
• 2 spring onion, sliced in 3cm lengths
• 1 carrot, shredded
• 1 cup finely shredded cabbage
Dipping Sauce
Combine 2 tablespoon each of sweet chilli, lemon juice and 1 tablespoon brown sugar.
1. Place flour and salt in a large bowl. Heat butter and milk in a small pot. Stir this straight into the middle of the flour mixture, mixing vigorously until a soft warm dough is formed. Knead to combine on a lightly floured bench for about a minute. Divide into 12-15 small balls. Roll each into a 12cm diameter circle.
2. Heat a heavy based pan to a high heat. Spray with a little oil then place one piece of dough in the centre. Let it cook for 3 or 4 minutes then turn and cook for a further 2. Set aside and continue with the remaining tortillas.
3. For the filling — combine the pork, hoisin sauce and chopped coriander in a bowl. Lay the flatbreads on the bench. Place some pork, spring onion, carrot and cabbage in the centre. Roll and tie with a piece of string.
4. Serve with the dipping sauce.

Tom Dixon tray and tumblers from Simon James, bowls, plates and forks from Collected, fairy lights and tray from Father Rabbit, decanter and glassware from The Studio of Tableware, star decorations and servers from Milly's Kitchen, napkins from Taylor Road Homeware and platter from Nest.
Photographer / Babiche Martens. Food Stylist / Angela Casley. Props Stylist / Anna Lee.
STOCKISTS: Collected (09) 630 9721, Father Rabbit (09) 360 2573, Milly's Kitchen (09) 376 1550, Nest (09) 302 5704. Simon James (09) 376 6955, Taylor Road Homeware (09) 378 1948, The Studio of Tableware (09) 638 8082.
Share this: