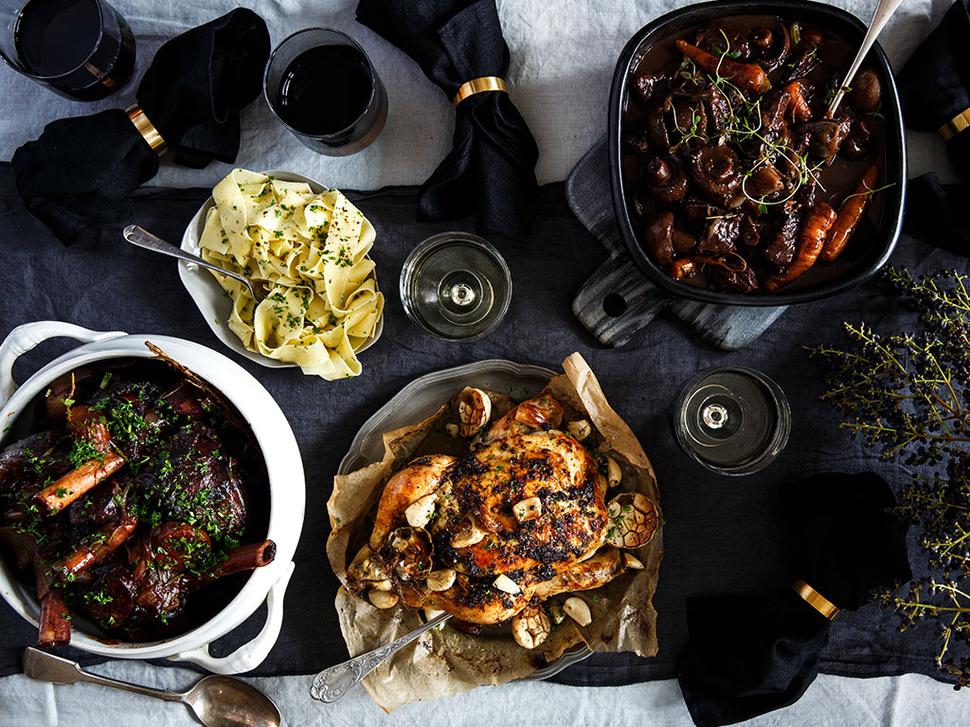 What to Make for a Pot Luck Dinner
For a relaxed and fun entertaining solution on a winter's night, nothing beats a pot luck dinner.
Friday June 5, 2015
The idea of a pot luck dinner or a meal with no particular menu can be exciting for the diner. Or it can turn to pot luck paranoia with the worry of presenting your dish to a crowd!
Perhaps you have whipped in the back door and slipped your dish on the bench, hoping no one will see you, only to hear people raving about it later.
What is so great about the pot luck concept is that no one person has to feed the crowd, taking the pressure and expense away from one household. It's a very sensible way of entertaining.
When you arrive at the venue you don't want to spend your time in the kitchen, so a precooked dish is best for the occasion.
This beef burgundy is perfect; place it straight into a warm oven until needed. It will stretch to feed a crowd and is impossible to mess up. I love it with pappardelle, and some parmesan cheese on top, but for your pot luck keep it simple — a sprinkle of parsley will do the trick.
Cook the lamb shanks until the meat falls off the bone. That way everyone will get a taste of the yummy meat. If you need it to go a little further, you can add a tin of butter beans. Dishes like this are so versatile; sometimes I will add diced potatoes or other vegetables just so it becomes a one-pot dinner. Crusty bread to scoop it up is all that's needed.
Everybody loves a good roast chicken. Adding pesto and loads of garlic turns it into a real tasty bird. If you are cooking for a large crowd, make two. The chicken is also delicious in a fresh bread sandwich the following day. Don't forget to squash the garlic from the bulbs to add to the flavour.

BEEF BURGUNDY
Serves 4
• 2 Tbsp oil
• 12 shallots, peeled
• 2 cloves garlic, crushed
• 2 carrots, chopped roughly
• 600g chuck steak, cut into 3cm cubes
• 500ml red wine
• 1 cup beef stock
• 1 cup passata
• 3 stalks thyme
• ½ tsp mixed herbs
• 200g button mushrooms, whole
• 4 field mushrooms, whole
• 2 Tbsp flour mixed with 20g
• melted butter
• Salt and freshly ground pepper, to taste
• ½ cup chopped parsley
1. Preheat oven to 160C.
2. Heat oil in a frying pan or ovenproof casserole dish. Add shallots and toss until they are nicely browned. Add garlic and carrots, tossing for 2-3 minutes. Remove and place into casserole dish.
3. In the same pan add beef in two batches, searing on all sides. Add this to shallots. Add wine, stock, passata, thyme and mixed herbs. Cover and place in oven for 1 hour.
4. Remove from oven, stir and add mushrooms. Return to oven for another 40 minutes or until meat is tender.
5. To thicken sauce add a little juice to flour and butter mix, then pour it into casserole. Heat and stir until thickened. Season with salt and pepper.
6. Stir through the chopped parsley and serve with hot green vegetables and pasta or mash.
What to make for dessert? See more recipes here
LAMB SHANK RAGOUT
Serves 4
• 4 large lamb shanks
• 2 Tbsp oil
• 1 leek, sliced
• 2 onions, chopped
• 4 cloves garlic, sliced
• 1 chorizo sausage, sliced
• 1 bunch baby carrots
• 1 cup passata
• 2 Tbsp tomato paste
• 250ml red wine
• 1 cup water or stock
• 1 tsp sugar
• Few stalks thyme
• ½ tsp salt and pepper, to taste
• ½ cup chopped parsley
1. Preheat oven to 200C. Place lamb shanks on a lined baking tray and cook for 30 minutes to let fat drip off. Remove from dish and throw away paper and fat. Turn oven down to 160C.
2. Heat oil in a frying pan to medium heat. Add leek, onions, garlic and chorizo. Cook slowly until lightly browned. Place into a large baking dish with shanks.
3. Add baby carrots, passata, paste, wine, water, sugar, thyme, salt and pepper. Stir well, cover tightly and bake for 2 hours. Remove lid and stir. Continue to cook for a further hour until lamb is practically falling from the bone.
4. Sprinkle with parsley and serve with pappardelle pasta or creamy mash.

4 BULB GARLIC CHICKEN
Serves 4
• 1 whole large chicken, washed and patted dry
• 1 lemon, cut in half
• ½ cup pesto
• 4 bulbs garlic, half-peeled
• Salt and freshly ground pepper
• 1 cup white wine
1. Preheat oven to 180C. With baking paper, line a baking dish that will fit the chicken snugly.
2. Place lemon halves into chicken cavity and tie legs together.
3. Smother top with pesto. Cut two of the bulbs in half, and dot all the garlic around and inside chicken. Season with salt and pepper. Pour wine around chicken, cover and roast for 1 hour. Remove cover. Continue to cook for a further 45 minutes or until cooked through, ensuring it doesn't brown too much. Save the juice as it will make a delicious gravy.
Share this:
More Food & Drink / Recipes