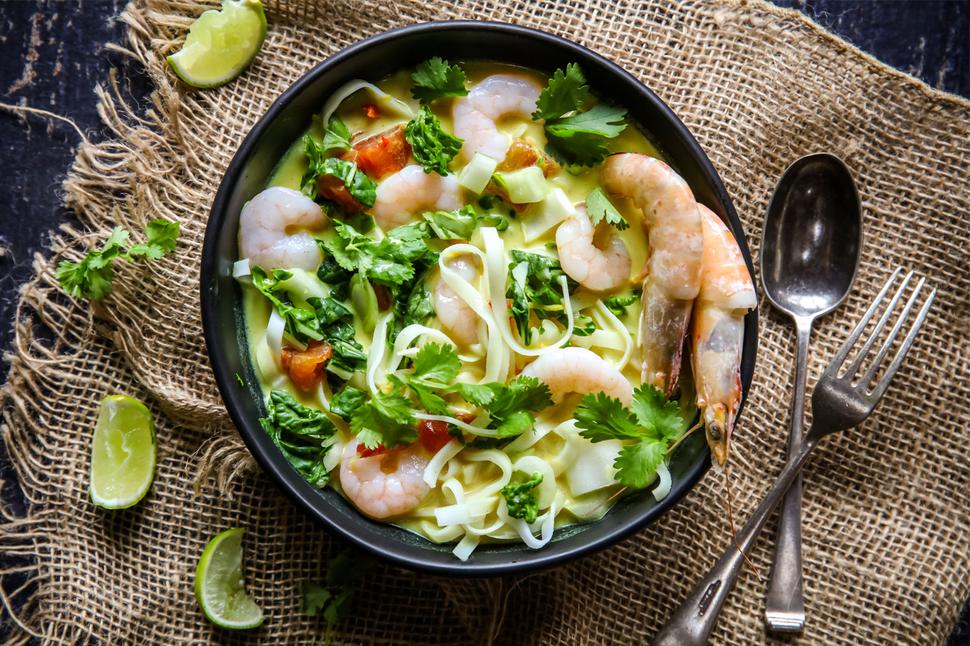 Quick & Easy Prawn Laksa
Snuggle in and slurp down a bowl of laksa next time you're craving something comforting
Friday Aug. 17, 2018
A bag of prawns in the freezer is one of the most versatile staples to have on hand. In this recipe, they form the basis of a tasty laksa. Perfect for a mid-week fix, within 30 minutes you can be serving this dish hot and steamy at the table.
PRAWN LAKSA RECIPE
Serves 4
1 Tbsp olive oil
1 Tbsp grated ginger
1 tsp turmeric
2 spring onions, sliced thinly
½ red chilli, sliced thinly (leave seeds in for extra heat)
1 Tbsp lemon zest
1 Tbsp fish sauce
420g tin coconut cream
1 cup chopped tomatoes (tin or fresh)
2 cups chicken stock
200g rice noodles, soaked in warm water for 10 mins
400g large prawns
2 heads bok choy, sliced roughly
½ cup coriander leaves
1 lime, cut into quarters
1. Warm the oil in a large pot. Add the ginger, turmeric, spring onions and chilli, cooking for 3 or 4 minutes.

2. Add the zest, fish sauce, coconut cream, tomatoes and stock bringing to a simmer for 8 minutes. This can be done ahead of time.

3. Before serving, bring the liquid back to a simmer. Add the noodles and prawns cooking for 4 or 5 minutes depending on their size. Add the bok choy, cook until wilted and tender.

4. Stir through the coriander and serve with a squeeze of lime.
Share this:
More Food & Drink / Recipes