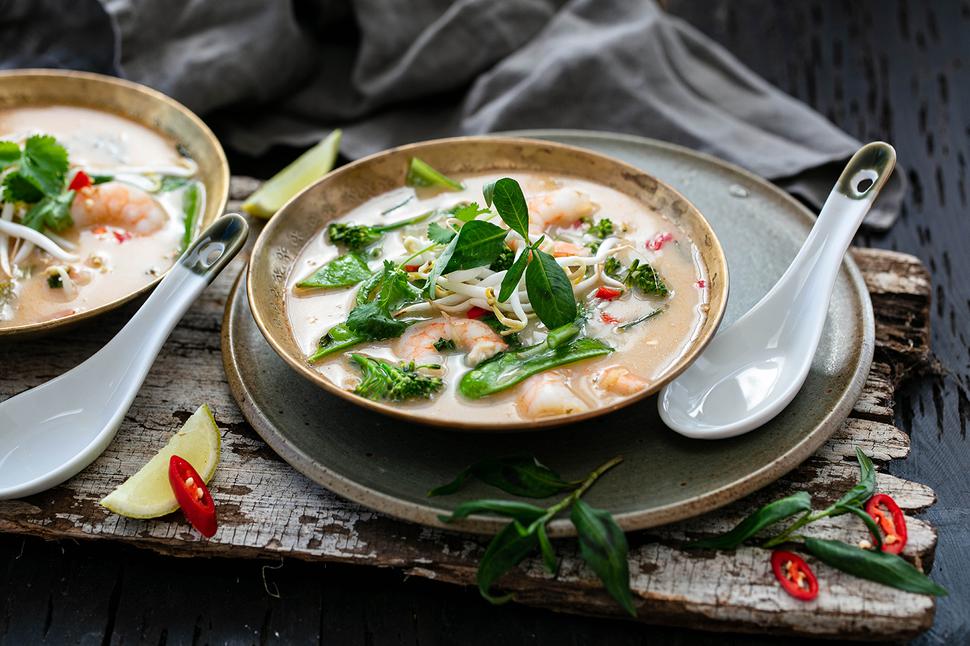 How To Make Prawn & Vegetable Tom Yum
You can use chicken or thinly sliced beef in this spicy, warming soup too
Sunday June 12, 2022
Perfect as a midweek dinner or good enough to serve to guests, this tom yum is a spicy soup packed full of goodness. 
PRAWN AND VEGETABLE TOM YUM RECIPE
Serves 2
2 tsp sesame oil
2 pieces broccolini, 2cm removed from the ends
1 spring onion, sliced
2 cloves garlic
2 Tbsp red curry paste
1 red chilli, sliced
420ml coconut milk
1 cup chicken stock
1 tsp brown sugar
1 cup snap peas
1 bunch choy sum
200g raw prawns
2 tsp fish sauce
1 lime, to squeeze
½ cup Thai basil, chopped, plus extra to garnish
1. Warm the sesame oil in a large pot. Add the ends you have chopped off the broccolini, the spring onion and garlic, cooking for a couple of minutes. Stir through the curry paste and chilli for 2 minutes. Pour in the coconut milk, stock and brown sugar, slowly bringing to a simmer for 5 minutes.
2. Add the broccolini, snap peas and choy sum, cooking for a few minutes to soften. Add prawns, cook 2 minutes, then add the fish sauce along with the lime juice and Thai basil. Serve hot.
Share this: