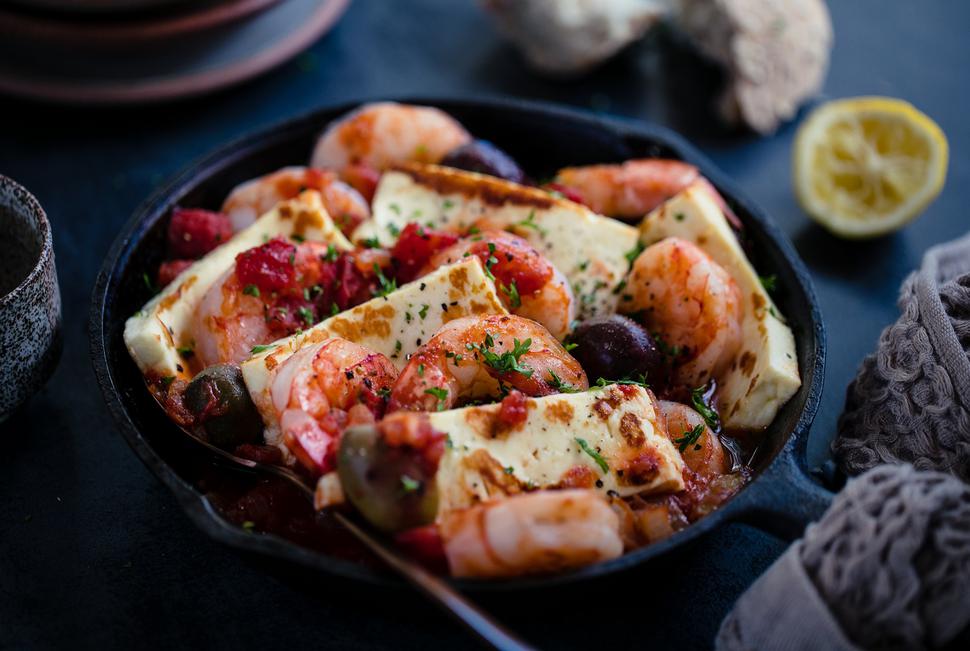 Prawns With Tomatoes, Olives & Haloumi
This simple dish is a midweek marvel — no-fuss and ready in a snap
Friday March 8, 2019
This recipe contains all of my favourite flavours in one dish and is a little bit special with prawns, olives and quick-fried haloumi in a simple tomato sauce. I've topped it with another favourite — oregano. Prawns are so colourful and make for a stunning meal. All you need is some bread to mop up any juices.
PRAWNS WITH TOMATOES, OLIVES & HALOUMI RECIPE
Serves 4
Ingredients
2 Tbsp olive oil
1 small onion, chopped finely
2 cloves garlic, crushed
400g tin diced tomatoes
1 tsp dried oregano
1 tsp sugar
½ tsp salt and pepper
500g large prawns
½ cup roughly chopped mixed olives
150g haloumi, in ½ cm slices
¼ cup chopped Italian parsley, to serve
Method
1. In a large frying pan warm the oil. Add the onion and garlic, cooking for a few minutes to soften. Stir through the tomatoes, oregano, sugar, salt and pepper bringing to a simmer. Stir through the olives.
2. Add the prawns, cooking for 3 or 4 minutes until they turn pink.
3. Pan-fry the haloumi in a hot pan for 30 seconds each side. Dot it among the prawns.
4. Serve with a sprinkle of chopped parsley.
Share this: