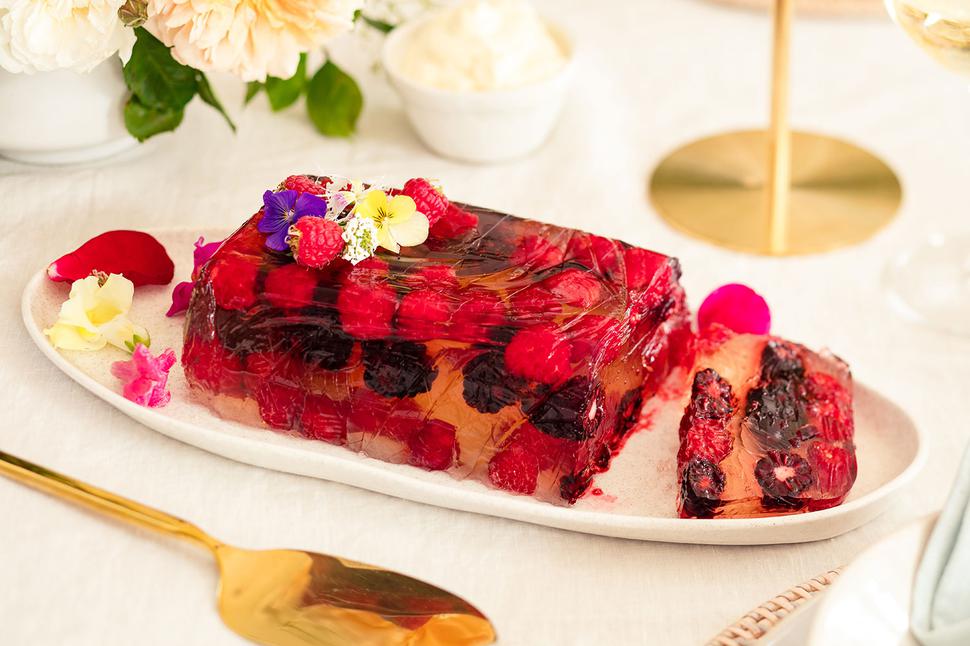 Prosecco Jelly With Summer Berries
Love prosecco? Put it on the menu with this boozy dessert
Friday Nov. 30, 2018
Prosecco is a great drink to have on hand over summer, especially mixed into an Aperol spritz. I've used it to make this prosecco and berry jelly, which looks and tastes gorgeous and adds a little wow to the proceedings. The best thing is you can make this up to four days ahead of time. Then on the day, simply tip it out on to a platter and decorate with some pretty flowers.
PROSECCO JELLY RECIPE 
Serves 10
6 leaves gelatin
1 cup sugar
1/2 cup water
1/2 cup lime with elderflower cordial (I used Barker's)
1 bottle prosecco
2 cups mixed berries
Optional edible flowers to serve
1. Line a loaf tin with plastic wrap leaving the ends hanging over.
2. Soak the gelatin leaves in extra-cold water until completely soft.
3. Into a pot place the sugar and half cup of water bringing to a simmer and dissolving the sugar. Add the lime and elderflower cordial then the prosecco and warm through. Squeeze the water from the gelatin, then add to the wine mixture stirring until well combined. Allow to cool, giving mixture a stir every so often.
4. In the base of the loaf tin spread some berries. Pour in a third of the prosecco mixture. Place in the fridge for 20 minutes to set, then repeat with fruit and prosecco, and then once more to use the remainder. Place into the fridge to set completely overnight or up to four days before serving.
Share this:
More Food & Drink / Recipes