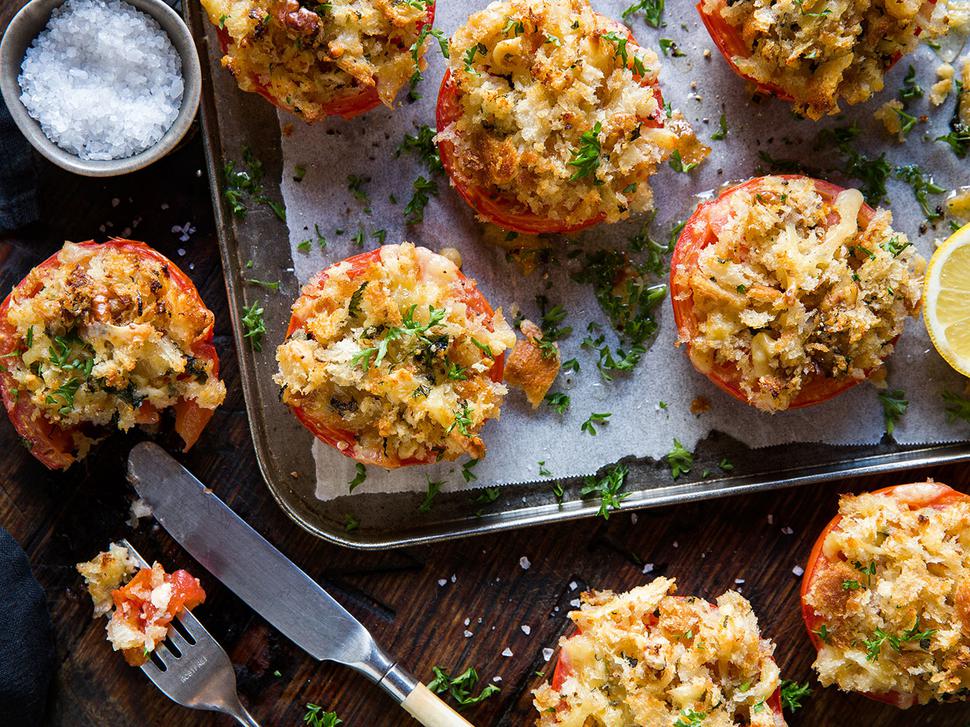 Provencal Stuffed Tomatoes
These juicy tomatoes are stuffed with herbed breadcrumbs and baked to perfection
Friday March 2, 2018
With larger tomatoes, try this Provencal recipe and stuff them with a crisp nutty filling. Then simply bake in the oven briefly and enjoy with a drizzle of truffle or olive oil. These are a firm favourite every season.
TOMATOES PROVENCAL
Serves 6
6 large tomatoes
2 cups fresh rustic breadcrumbs
1 cup grated tasty cheese
2 cloves garlic, crushed
1 Tbsp lemon zest
¼ cup lemon juice
¼ cup olive oil
¼ cup chopped walnuts
½ cup chopped parsley
Salt and pepper
1 Tbsp truffle or olive oil to drizzle
1. Preheat an oven to 180C.
2. Slice the tomatoes in half and scoop out the pulp. Turn tomatoes upside down on a paper towel to drain. Discard the pulp.
3. In a bowl combine the breadcrumbs, cheese, garlic, lemon zest, juice, oil, walnuts, parsley and salt and pepper.
4. Place the tomatoes in a baking dish and fill each with the crumb mix. Bake for 20 minutes until golden and softened.
5. Drizzle with truffle oil or olive oil to serve
Share this:
More Food & Drink / Recipes