Pulled Lamb Nachos Recipe
Make your own tortilla chips with this winning nachos recipe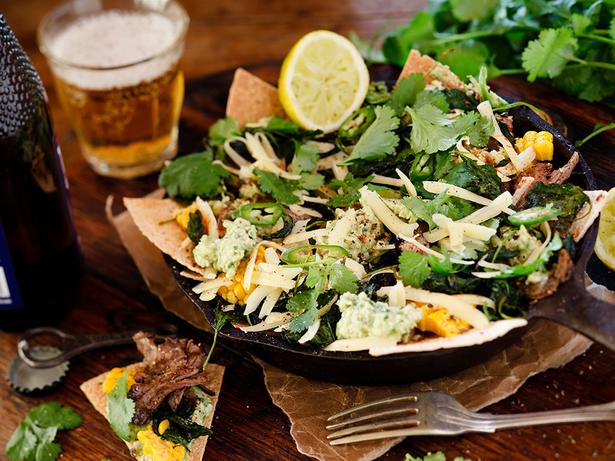 Wednesday Sept. 2, 2015
PULLED LAMB NACHOS
Serves 4
• 100g raw cashews
• 600g lamb leg or shoulder
• 1 tsp smoked paprika
• Oil for brushing
• 2 cloves garlic, crushed
• 1 cup red wine
• 5 soft tortillas, cut into wedges
• Olive oil for brushing tortilla
• 100g kale, torn in pieces
• 2 limes, zest and juice
• 2 green chillies, chopped
• 2 ripe avocados
• 1 cup roughly chopped coriander
• 2 cloves garlic
• 1 cup sweetcorn
• 150g tasty cheese, grated
1. Preheat oven to 160C.
2. Soak the cashews in boiling water for 20 minutes and drain.
3. Place the lamb into a baking dish, rub with ½ teaspoon paprika, oil and garlic. Pour over the wine, cover tightly and place in the oven for 2 hours until tender and falling apart.
4. Brush the tortilla with oil and sprinkle with paprika. Stack on top of each other then cut into even sized wedges. Place in single layers on to a baking tray and bake for 7 minutes until crispy.
5. Place the kale on another baking tray. Zest one of the limes over the top, sprinkle with a little oil, salt and pepper. Bake in the oven for a few minutes until crispy. Set aside.
6. Place the cashews into a blender with the flesh from 1 avocado, lime juice and zest, coriander and garlic. Add ¼ cup water to make a creamy sauce. Season with salt and pepper.
7. In a small bowl combine the remaining avocado chopped with the corn, chillies and a little lime juice. Shred the lamb while warm.
8. To assemble, place your tortilla chips on an oven proof tray. Sprinkle over half the cheese. Add the corn mix, lamb, kale, and top with remaining cheese. Place under the grill to melt.
9. Serve with cashew cream and a squeeze of lime juice.
Share this:
More Food & Drink / Recipes