Pumpkin and Pine Nut Tart Recipe
This pumpkin tart is perfect for a picnic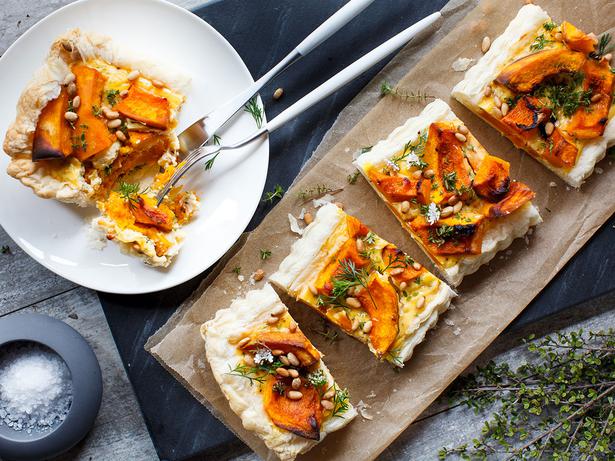 Thursday Dec. 17, 2015
I think I peel more pumpkin than anyone; it is always on the menu at our house. Very rarely are there any leftovers, but I managed to hide enough to make this simple tart with a few extra ingredients. Over the coming holidays a block of puff pastry in the freezer will come into its own. Use it to whip up a pie or tart when visiting friends or going on a picnic.

PUMPKIN AND PINE NUT TART RECIPE
Serves 4
• 200g puff pastry
• 200g ricotta
• ½ cup tasty cheese
• Pinch nutmeg
• 1 spring onion, chopped
• 3 eggs, lightly whisked
• 1 Tbsp chopped parsley
• Salt and pepper
• 2 cups cooked roasted pumpkin in cubes
• ¼ cup toasted pine nuts
1. Preheat oven to 180C.
2. Roll the puff pastry on a lightly floured board. Line a 12 x 34cm tart tin or a round 23cm tin. Prick the base with a fork, cover with baking paper, fill with baking beans or rice, then bake for 20 minutes until cooked and golden. Remove the paper for a further five minutes to dry the base.
3. In a small bowl, combine the ricotta, cheese, nutmeg, spring onion, eggs and parsley. Season with salt and freshly ground pepper.
4. Spread the pumpkin and 1 tablespoon pine nuts over the tart base. Pour over the egg mixture. Bake in the oven for 35 minutes until set and golden.
5. Serve warm with a sprinkling of the remaining pine nuts.
Share this:
More Food & Drink / Recipes