Pumpkin and Quinoa Cakes Recipe
Try Angela Casley's healthy and tasty pumpkin and quinoa cakes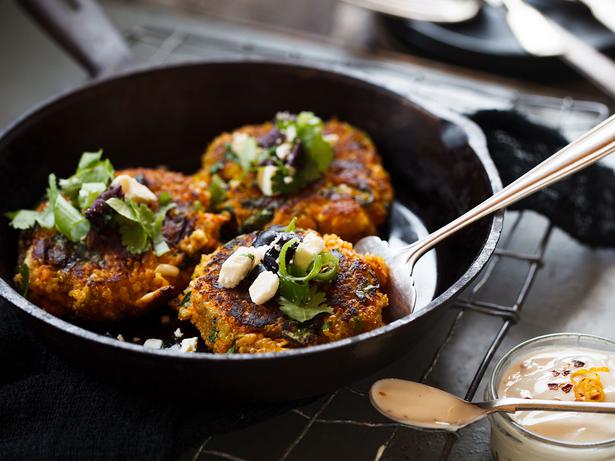 Tuesday Oct. 27, 2015
This recipe for pumpkin and quinoa cakes makes plenty, which is perfect as they are delicious cold the next day for a school or university lunch.
PUMPKIN AND QUINOA CAKES RECIPE WITH CHILLI YOGHURT
Makes 12
• 1 cup quinoa
• 2 cups grated pumpkin
• 2 cloves garlic, crushed
• 1 spring onion, chopped finely
• 1 cup shredded spinach
• ½ cup rolled oats
• 1 tsp ground cumin
• 4 eggs
• Zest of 1 lemon
• ½ cup chopped coriander
• 150g crumbled feta
• Oil for cooking
Yoghurt dip
• ½ cup yoghurt
• ¼ tsp chilli flakes
• 1 tsp lemon zest
Topping
• ½ spring onion, chopped small
• 8 black olives, chopped
• 50g crumbled feta
1. Place the quinoa into a pot with 2 cups of water and ¼ tsp salt. Bring to a simmer, cover and cook for 10 minutes. Remove the lid, stir through the pumpkin and continue to cook for 5 minutes until the liquid is absorbed. Cool.
2. Into a large mixing bowl place the garlic, spring onion, spinach, oats, cumin, eggs, zest, coriander and feta, combining well. Add the cooled quinoa and mix well. Chill for 30 minutes in the fridge.
3. Mould the mixture into patties and place on a tray. Chill until ready to cook.
4. In a small bowl combine the yoghurt, chilli flakes and lemon zest. Set aside to serve.
5. For the topping combine the spring onion, olives and feta.
6. To cook the cakes, heat a little oil in a frying pan to a medium heat. Add 3 or 4 at a time cooking for 4 minutes each side until set. Then continue to cook the remainder. Keep in the oven to get warm if needed.
7. Serve with a little topping and yoghurt sauce.
Share this:
More Food & Drink / Recipes