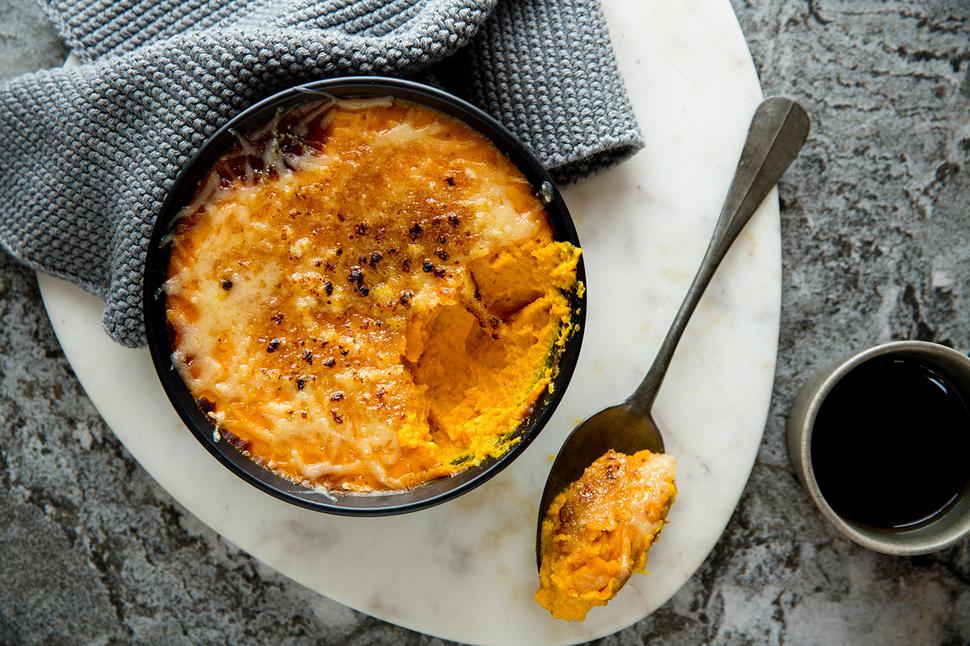 Pumpkin Brulee Recipe
A simple pumpkin custard with a sprinkling of parmesan is roasted to caramelised deliciousness in this intriguing savoury brulee
Friday Oct. 20, 2017
The pumpkins at the vegetable shop this week were bright and orange. It is one of our favourite vegetables at home and one of the nicest ways to eat it is to make this simple custard which is baked in the oven. I sprinkle over parmesan and a tiny bit of sugar, caramelise it and then call it pumpkin brulee! It's delicious.
PUMPKIN BRULEE
Serves 4
2 cups peeled pumpkin cut into 3cm pieces
4 egg yolks
¼ tsp nutmeg
200ml cream
Salt and freshly ground pepper to taste
1 cup grated parmesan
1 tsp demerara sugar
1. Preheat an oven to 160C.
2. Place pumpkin in a pot of salted water and cook for 15 minutes until completely soft. Drain and cool for 10 minutes.
3. Place pumpkin in a blender and whizz until smooth. Add egg yolks, nutmeg, cream, salt, pepper and half the parmesan and blend.
4. Pour into an ovenproof dish. Place in a bain marie and bake for 40 minutes or until just set.
5. Remove and cool completely.
6. Just before serving sprinkle over the remaining cheese and sugar. Place under the grill to brown and caramelise the top.
Share this:
More Food & Drink / Recipes