Pumpkin Koftas Recipe
Serve these tasty pumpkin koftas in a roti for an easy dinner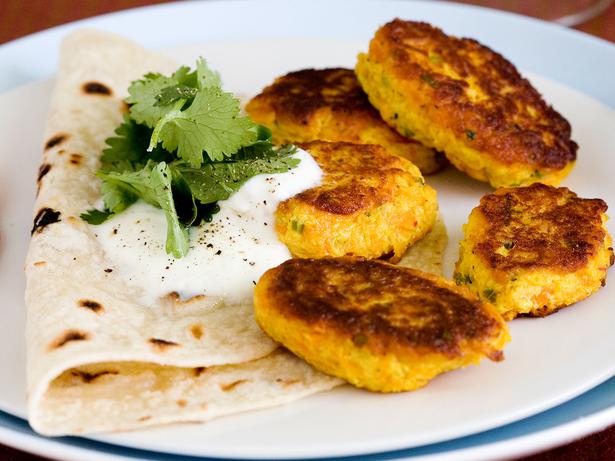 Thursday June 24, 2010
PUMPKIN KOFTAS
Serves 4
2 cups Pumpkin, grated
2 Tbsp Rice flour
2 Tbsp Ground almonds
½ cup Ricotta cheese
2 tsp Fresh ginger, finely chopped
1 tsp Ground turmeric
1 tsp Chilli, finely chopped, plus extra to serve
2 Tbsp Fresh coriander, finely chopped, plus extra to serve
1 Egg
1 splash Vegetable oil
1 pottle Plain unsweetened yoghurt
4 Roti
1 Lemon, cut into quarters to serve + add to shopping list
1. In a large bowl, put the pumpkin, flour, almonds, ricotta, ginger, turmeric, chilli and coriander.

2. Whisk an egg with a fork and add. Add salt to taste and mix all together thoroughly.

3. Heat a large heavy-based fry pan. Add just enough oil to cover the base. Shape the mixture into small balls.

4. This may be easier with wet hands. Slightly flatten each kofta then cook for 3-4 minutes on each side or until golden.

5. Serve hot with a squeeze of lemon, yoghurt and warmed roti. Extra chopped chilli and coriander can be offered.
Share this:
More Food & Drink / Recipes