Pumpkin and Red Lentil Soup Recipe
Try this simple pumpkin soup for a comforting wintery number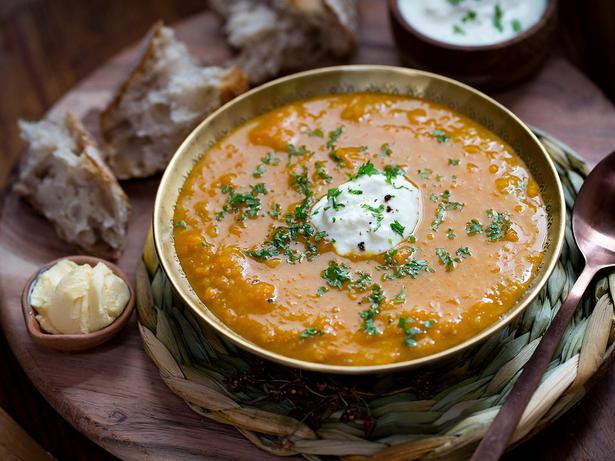 Friday July 21, 2017
This simplest of pumpkin soups is a comforting wintery number with red lentils. You can use it as a base and add fresh coriander, a bit of grated ginger or some carrots to bulk it up. Sometimes the family swells, needing the soup to go further. Some warm sourdough bread is great for dunking.
PUMPKIN AND RED LENTIL SOUP RECIPE
Serves 4
2 Tbsp olive oil
1 onion, chopped roughly
4 cloves garlic, crushed
2 Tbsp red curry paste
1 cup red lentils
500g pumpkin, peeled and chopped
1 litre chicken stock
Salt and freshly ground pepper to taste
To serve: ½ cup Greek yoghurt
¼ cup chopped parsley
1. In a large pot warm the oil. Add the onion and garlic cooking until softened. Stir through the curry paste until well combined and fragrant.
2. Add the lentils, pumpkin and chicken stock. Bring to a simmer stirring occasionally for 40-50 minutes until the pumpkin soft and lentils are cooked.
3. Mash with a potato masher, leaving chunky, or blitz until smooth. Season with salt and freshly ground pepper.
4. Serve with a blob of yoghurt and sprinkle of parsley.
Share this: