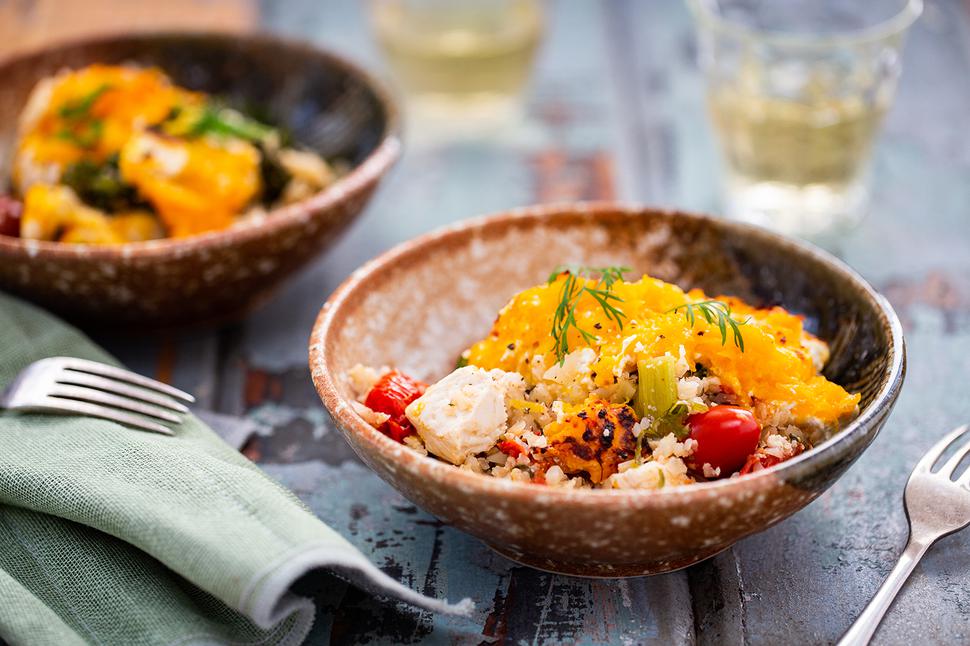 Pumpkin-Topped Braised Vegetables With Tofu
Cauliflower rice, silken tofu and an addictive pumpkin-feta topping — this is one of the most satisfying bakes we know of
Sunday Aug. 8, 2021
This is so delicious, with cauliflower rice creating the perfect base for this bake. The vibrant mashed pumpkin with a hint of feta adds a surprise to the topping. It can be prepared ahead of time and baked just before serving so it's nice and hot.
PUMPKIN-TOPPED BRAISED VEGETABLES WITH TOFU RECIPE
Serves 4
400g peeled pumpkin
100g feta, crumbled
½ cup grated tasty cheese
2 Tbsp oil
2 spring onions, sliced
3 cloves garlic, crushed
½ tsp celery seeds
Zest of ½ lemon
½ head cauliflower, blitzed to rice-like
½ cup vegetable stock
3 cups shredded kale
½ cup chopped herbs, e.g. parsley, dill
1 cup cherry tomatoes
200g silken tofu
1. Preheat oven to 180C.
2. Chop the pumpkin and cook in a pot of salted water until soft. Drain and mash with the crumbled feta and tasty cheese. Set aside.
3. Heat the oil in a large pot or frying pan. Add the spring onions and garlic, cooking for 3 minutes. Add the celery seeds, zest and cauliflower rice, cooking for 5 minutes, stirring occasionally until soft. Add the stock, kale, herbs, cherry tomatoes and break in the tofu roughly, stirring through until the kale is wilted and hot. Spoon the mixture into an ovenproof dish.
4. Top with the pumpkin.
5. Place the bake into the oven for 20 minutes or until lightly browned on top.
Share this: