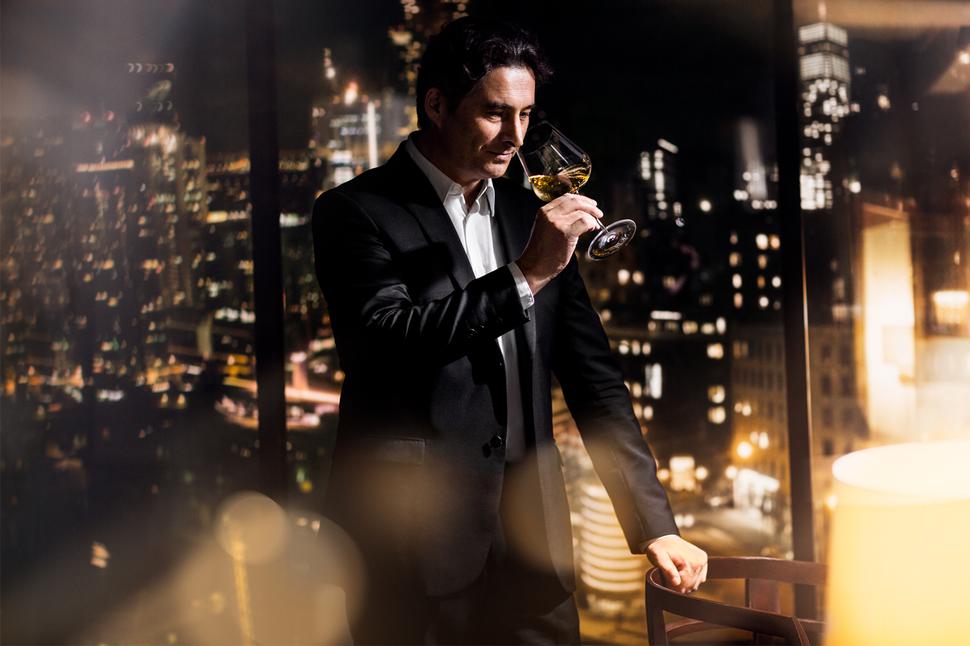 Q&A With Cellar Master Benoit Gouez, Moët & Chandon's Chief Winemaker
From buying right to perfect pairings, Benoit Gouez lifts the curtain on the wonderful world of Champagne
Wednesday May 23, 2018
What does your day-to-day life as a Chef de Cave/Cellar Master involve?
I joined Moët & Chandon in 1998 as a winemaker and became the Chef de Cave at 35-years-old. I have been in this role for 13 years, a mere blip in the House history dating back to 1743. Nature and its fruit are the first source of Champagne's grandeur and uniqueness. Moët & Chandon's philosophy of nature is to respect the fruit of the vineyard to ensure that the natural flavour of grapes shines through in its Champagnes. Our grapes are a noble product of nature, and I consider my role and that of my team to be the enhancement of that raw material. At Moët & Chandon, a great Champagne is defined as the interpretation of the grape.
READ: Join Moet & Chandon's Chief Winemaker At The Grove For A Special Degustation
I lead a team of 10 winemakers and one of our main duties is overseeing the tasting and blending of the current year's wines, together with reserve wines, to produce a consistent Champagne signature style. Despite having the greatest technical facilities, every decision is ultimately based on blind tasting. The idea is to make quick, instinctive decisions. We taste up to 800 wines in one year. We know exactly what we are looking for — it's about identifying the defects, strengths, and weaknesses, and being able to classify them.
What are the highlights, or the most glamorous parts of the job?
Spending time with world legends such as Roger Federer, our global brand ambassador who is celebrating his 20 years of career this year and for this special occasion we have created a limited edition magnum bottle titled 'Greatness since 1998'.
This special bottle is filled with one of the House's most accomplished vintage Champagnes, Moët & Chandon Grand Vintage Collection 1998, the 65th vintage in our history, made exclusively with grapes from the harvest of 1998, the same year that Roger Federer launched his brilliant professional career. I am also very proud that 100 per cent of the profits from the bottles' sale will be donated to the Roger Federer Foundation, to improve the lives of underprivileged youth through education in six countries in Southern Africa and Switzerland.
And what are the most challenging aspects?
Each year, we at Moët & Chandon face the awesome challenge of re-creating flagship of our House, Moët & Chandon Impérial, with the same recognisable taste that is beloved around the world, despite having to use grapes that, at each harvest, are never exactly the same in aroma or ripeness. To achieve both consistency and quality, we accompany the process of winemaking at every stage, from the blending of still wines made from three grape varieties within months of the harvest, through the careful elaboration and the bottling of the same beloved Champagne style at Moët & Chandon year after year.
READ: The Chicest Glassware To Buy
The fine-tuning of a special palette of aromas and flavours for each of Moët & Chandon's cuvées is where my winemaking team comes into play. Our cuvées are consistent because we are constantly controlling, adjusting and adapting. While an industrial producer will apply the same recipe year after year, we make Champagne that is made-to-measure. The infinite adjustment of blends and the careful control of the rhythm of winemaking are the essential ingredients that enable Moët & Chandon to produce high quality Champagnes every year.
Can you share your top three tips for buying great Champagne?
Know Your Style: While Champagnes vary according to cuvée and age, the big Houses have identified distinctive characteristics and style. Moët & Chandon Champagne style is all about a bright fruitiness, a seductive palate and an elegant maturity.
Know Your Age: A vintage Champagne is exclusively blended with the grapes from a single's year's harvest, as an ode to a unique and original year, left to mature for at least 3 years according to French regulations. Moët & Chandon Grand Vintages, like the current 2009, are usually aged for at least seven years allowing them to intensify in complexity and sophistication.
Know Your Palate: Cuvées are assigned different labels according to their relative dryness or sweetness. Look out for the sweetness level of the Champagnes, clearly written on every bottle label, that ranges from the nectar-like "demi-sec" (with 32-50 grams of sugar per litre) to the "brut" (with less than 12 grams of sugar per litre) and the "extra-brut" (with less than 6 grams of sugar per litre). Moët & Chandon's rich portfolio provides an inimitable Champagne experience suitable to all palates.
What's the most common mistake people make when buying or serving Champagne?
First of all, Champagne home storage is very important. If you're planning to enjoy your bottle of Moët & Chandon within three to four days of purchase, it is fine to store the bottle in the refrigerator. But only keep it in the fridge for a few days, or else the bubbly will begin to change. If it sits in the fridge for weeks, the cork can dry out due to no humidity, and the Champagne will oxidise faster, changing its aromas.
Secondly, it's the service temperature. Champagne is a wine that is really enjoyable at a certain temperature, so you have to chill your bottle 15 minutes before drinking – don't freeze it, just chill it to about 7 or 8 degrees in a bucket with a third of water and two thirds of ice cubes.
Third and last is glassware. The best way to enjoy Champagne is in a white wine glass. A white wine glass's larger bowl enables the wine to open up in the glass, allowing you to better enjoy all the aromas and to savor the complexity of the Champagne. Traditional Champagne flutes are perfect for showcasing Champagne's stream of bubbles, but their narrow shape limits the drinker's experience of aromas and flavours. Also, remember to hold your glass by the stem and not by the bowl because your hands will warm the Champagne up too quickly.
Do you have advice for pairing Champagne and food?
At Moët & Chandon, the appreciation of a delectable Champagne is on par with appreciating the beauty of art, of great music or of a refined meal. For me, tasting a great Champagne transcends both expertise and intellect. It must be, above all, a pleasurable experience accessible by all.
That experience is particularly enhanced when the right Champagne is paired with dishes that bring out the Champagne's natural aromas and allow it to come alive. We look for a cuisine that combines simplicity and salinity and ties in a particular harmony of colours and textures that will complement the Champagne's chromatic characteristics, fruitiness and effervescence.
READ: Top of the Drops: The Viva Team's Favourite Bars
To accompany the ethereal lightness of a brut Champagne, dishes are best served raw or moderately cooked to preserve the natural juices of the food ingredients. Since "saltiness" is the single sensation missing from brut Champagne's flavour profile, it is a perfect counter-balance to savoury dishes. That is why Moët & Chandon's brut and extra-brut Champagnes are normally paired with amuse-bouches, appetisers, and light main courses, and less suited to sweetened desserts. To heighten the experience of a vivacious Moët & Chandon Impérial, light dishes like sushi, scallops, oysters, or a fragrant Caesar salad are ideal.
What's your approach to balancing tradition and innovation in winemaking?
Our winemaking is a process that combines a winemaking savoir-faire using state of the art technology for a delicate and subtle elaboration of the grapes. Our strength is in the size and diversity of our vineyards, but also with the region's most important pressing centers, where we have the most advanced technical facilities which we have put to use intelligently. It is in our own state-of-the-art cuverie, equipped with stainless steel vats for fermenting and maturing of the wines, that Moët & Chandon begins the process of turning the fruit of the harvest into some of the world's most delectable Champagnes.
We believe in customised, adaptable oenology with minimum intervention in order to preserve the natural diversity of the grapes, vineyards and vintages. We do not force nature; we guide her. Champagne is as much a product of nature as it is the result of the winemaker's savoir-faire. At Moët & Chandon, making Champagne is a craft passed down through generations and perfected today into an art. Making Champagne is not a matter of recipe, it has a necessary element of soul and sensibility. Our cuvées are consistent because we are constantly controlling, adjusting and adapting. While an industrial producer will apply the same recipe year after year, we make Champagne that is made-to-measure.
You've spent time working in New Zealand vineyards - what are your memories of living and making wine here?
I remember the beauty of the country and the diversity in landscapes. With little population New Zealand also keeps a great sense of nature, what I am sensitive to. With my two favourite sports being rugby and sailing, New Zealand is heaven. When it comes to winemaking I have been impressed with the quest of winemakers to develop their very own style instead of trying to copy an existing one, with Sauvignon Blanc first and then Pinot Noir. But most importantly I remember how friendly Kiwis have been with me.
• Join Benoit Gouez at The Grove for a unmissible four-course degustration complete with Moët & Chandon Champagne matches and tales from the world of wine on Monday May 28, 6.30pm. $195 per person, limited tickets available. To book, email info@thegroverestaurant.co.nz or call The Grove on 09 368 4129. Visit Thegroverestaurant.co.nz
Share this: