Quick Breakfast Bread Recipe
Top this quick breakfast loaf with Angela Casley's delicious combinations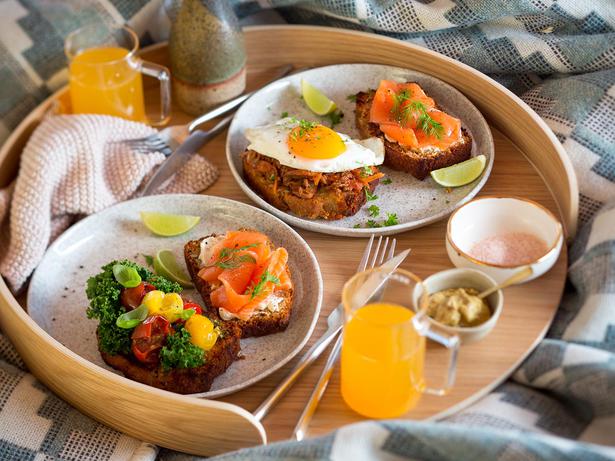 Friday June 30, 2017
Make this breakfast loaf the day before and cook in a frypan or under the grill, as it can be a bit crumbly for a toaster. Keep it in an airtight container or slice and freeze, ready for quick use. When it comes to creative toppings try savoury mince with a fried egg, or cream cheese, salmon and dill, or for a third option, kale and lightly roasted tomatoes.
QUICK BREAKFAST BREAD RECIPE
Makes 1 loaf
½ cup flavourless oil
½ cup honey or maple syrup
2 eggs
1 cup grated apple
1 ½ cup self-rising wholemeal flour
½ tsp ground ginger
½ cup fine coconut
¼ cup each of pumpkin and sesame seed
1. Preheat an oven to 180C. Line a loaf tin with baking paper.
2. In a small bowl combine well the oil, honey, eggs and grated apple.
3. In a large bowl place the flour, ginger, coconut and seeds reserving a few for the top. Add the wet mixture combining well without over-mixing. Pour into your loaf tin, sprinkle over a few seeds and place into the oven for 50 minutes or until it sounds hollow when tapped.
4. Remove from the oven and cool before slicing. Eat fresh or toast under the grill and add your favourite toppings.
Share this:
More Food & Drink / Recipes