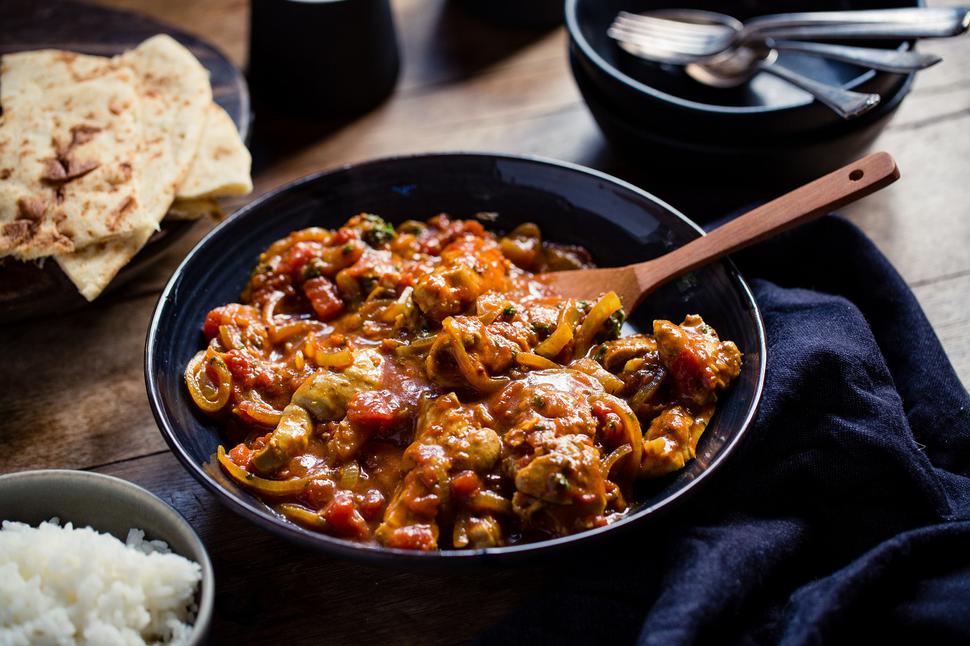 Quick & Easy Chicken Tomato Curry
This warming curry is the perfect dish to whip up when you're craving something comforting
Friday May 17, 2019
Dry roasting the seeds until they are aromatic is essential when making a curry paste. Your nose will tell you when they are ready. Once you have a paste made it will last in the fridge for up to a month. Perfect for quick dinner preparation.
QUICK & EASY CHICKEN TOMATO CURRY RECIPE
Serves 4
Ingredients
Curry Paste
1 Tbsp cumin seeds
1 Tbsp coriander seeds
1 tsp fennel seeds
1 tsp black peppercorns
1 tsp cinnamon
1 tsp paprika
½ tsp salt
1 chilli, chopped
2 Tbsp tomato paste
1/3 cup white vinegar
Curry
1 Tbsp oil
1 onion, sliced
8 boneless and skinless thighs
420g tin diced tomatoes
½ cup chicken stock
1 tsp brown sugar — optional
½ cup chopped coriander
Hot rice and naan to serve
1. In a small frying pan place the cumin, coriander, fennel seeds and black peppercorns. Bring to the heat swirling around for 2-3 minutes until they become aromatic. Remove and place into a mortar and pestle, grinding them to a powder. Add the cinnamon, paprika, salt and chilli, grinding some more. Stir through the tomato paste and vinegar.
2. For the curry, warm the oil and add the onions, cooking for 4 minutes until soft. Add 3 tablespoons of the paste, cooking for 2 minutes. Add the chicken, browning all over. Pour in the tomatoes, stock and sugar if using, bringing to a simmer until the chicken is cooked through. Stir through the coriander.
3. Serve hot with rice, naan and an extra sprinkle of coriander.
Share this: