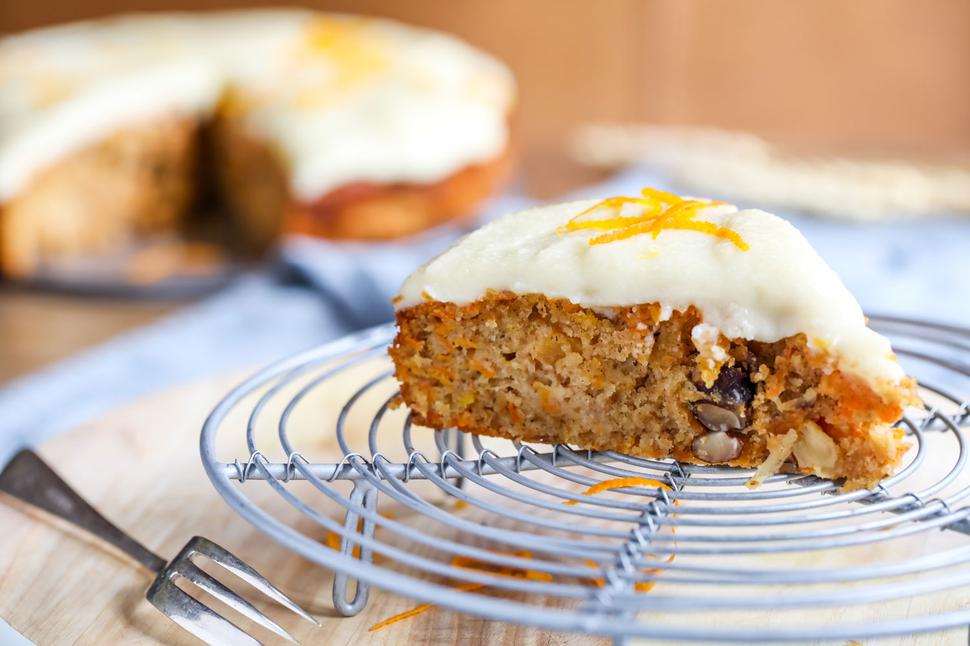 Quick Wholemeal Carrot Cake With Zesty Cream Cheese Icing
Spiced, nutty carrot cake with lush cream cheese icing will never go out of fashion
Friday July 20, 2018
This carrot cake recipe is quick and super simple. It's also fabulous cooked in muffin tins, cutting down cooking time, meaning you get to eat them sooner! Cream cheese is a favourite of mine when it comes to icing, even if it is a little decadent. It tops off the deliciousness of this cake.
QUICK WHOLEMEAL CARROT CAKE RECIPE
Serves 8
125g wholemeal self-raising flour
¾ cup raw sugar
½ tsp cinnamon
½ tsp mixed spice
2 cups grated carrot
2 tsp orange zest
½ cup peanut oil
2 eggs, whisked lightly
½ cup pineapple chunks
¼ cup chopped hazelnuts or walnuts
Icing
½ cup cream cheese
25g softened butter
½ tsp vanilla essence
1 cup icing sugar
½ tsp orange zest plus a little to decorate
1. Preheat an oven to 180C. Line a 20cm tin with baking paper.
2. Into a large bowl place the flour, sugar, cinnamon, mixed spice, carrot and zest. Stir to combine then make a hole in the middle.
3. Add the oil, eggs, pineapple and hazelnuts and stir to combine well. Pour into the tin and smooth the top. Place in the oven and bake for 50 minutes. Remove and cool in the tin.
4. For the icing, beat together the cream cheese, butter and vanilla until smooth. Stir through the icing sugar and zest making a smooth icing. Spread evenly over the cake. Decorate with extra zest.
READ: Best Ever Gluten-Free Baking Recipes To Satisfy Your Sweet Tooth
Share this:
More Food & Drink / Recipes