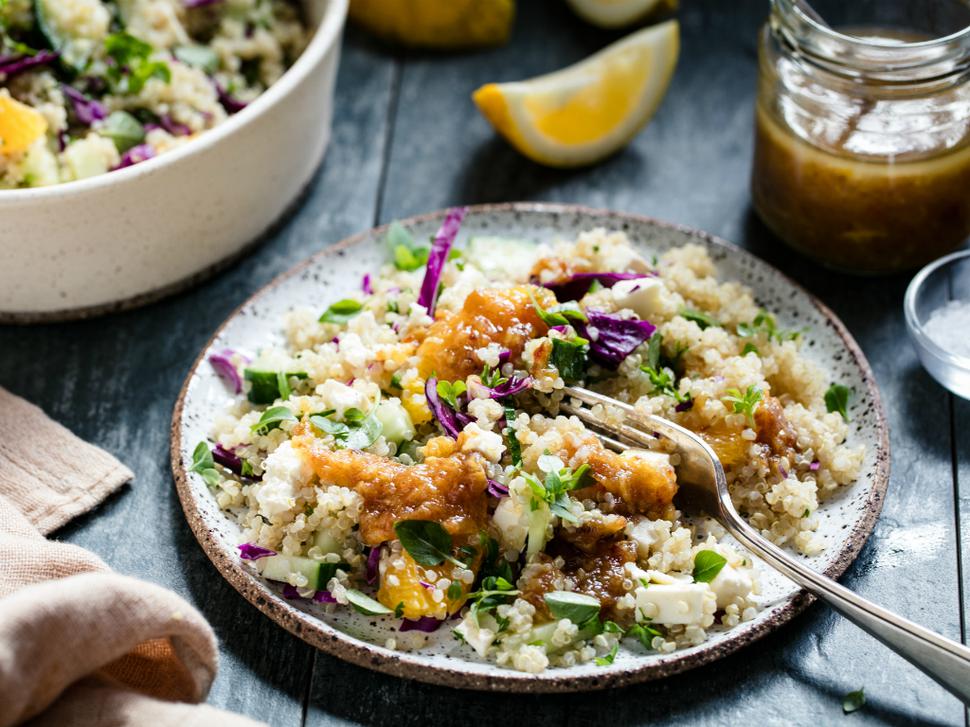 Citrus Quinoa Salad with Lemon Dressing
An array of sweet, sour and tangy flavours combine in this lively winter salad
Friday May 11, 2018
I like to use this quinoa and lemon salad as a base then top with grilled chicken or fish. Toss the lemon segments through the salad to add a surprising, tangy bite and beautiful colour. The dates in the dressing make for a wonderful sweet/sour combination.
CITRUS QUINOA SALAD WITH LEMON DRESSING
Serves 4
Dressing
¼ cup dates
1 Tbsp grated fresh ginger
2 Tbsp olive oil
1 tsp lemon zest
2 Tbsp lemon juice
Salad
½ cup quinoa
1 cup chopped herbs, e.g. mint, parsley, dill
1 orange, segmented
1 lemon, segmented
½ cup chopped cucumber
½ red onion, sliced thinly
50g crumbled feta
Salt and pepper to taste
1. For the dressing, place the dates into boiling water for 15 minutes to soften, then drain.
2. Into a processor place the dates, ginger, olive oil, lemon zest and juice blending until smooth. Set aside.
3. Bring 2 cups of water to the boil. Add the quinoa, give a stir and cook for 15 minutes until all the water has been absorbed. Cool.
4. To the quinoa add the herbs, orange, lemon, cucumber, red onion, feta, salt and pepper to taste combining well.
5. Serve with a drizzle of the dressing.
Share this:
More Food & Drink / Recipes