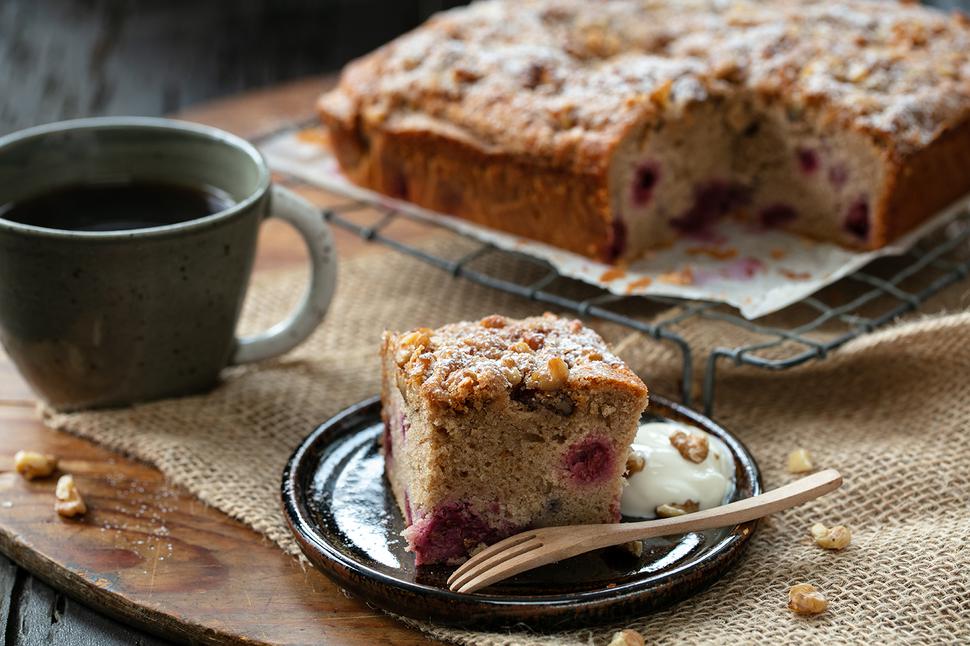 Raspberry & Cinnamon Cake
Sometimes you need a slice of cake — specifically, this spiced raspberry cake topped with sweetened walnuts
Sunday July 4, 2021
There is no egg beater required for this recipe, simply mix this cake with a whisk or fork. Any berries you have in the freezer will work a treat in this delicious tea cake. Enjoy it with a good dollop of yoghurt or cream or pack it for a winter picnic if you are brave!
RASPBERRY AND CINNAMON CAKE RECIPE
Serves 8
1 cup sour cream
100g butter, melted and cooled
3 eggs
1 tsp vanilla
1 cup caster sugar
2 cups plain flour
1 tsp baking powder
½ tsp baking soda
1 tsp cinnamon
2 cups frozen raspberries
Topping
¼ cup demerara sugar
½ cup chopped walnuts
Yoghurt or lightly whipped cream, to serve
1. Preheat oven to 170C. Line a 20 x 20cm tin with baking paper.
2. In a bowl whisk together the sour cream, butter, eggs and vanilla. Whisk in the sugar.
3. In another bowl combine the flour, baking powder, soda and cinnamon. Add the wet mixture to the dry. Then gently fold in the raspberries. Pour the batter into the tin, spreading evenly.
4. For the topping, combine the sugar and walnuts then sprinkle over the top. Bake in the oven for 50 minutes or until a skewer comes out clean. Cool in the tin for 20 minutes before removing.
Share this: