Raspberry Curd Tartlets Recipe
These colourful raspberry curd tartlets add to the festive vibe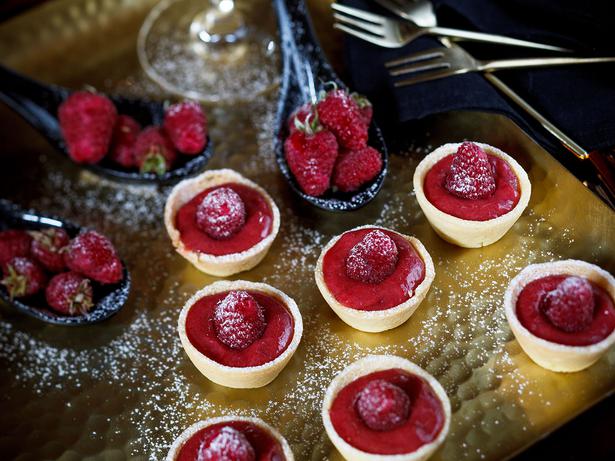 Friday Dec. 4, 2015
These colourful raspberry curd tartlets add to the festive vibe. The berries have shown an exceptional flavour so far this year and that should only get better as the weather warms up. I usually make lemon curd, but this raspberry one is a wonderful alternative. It is perfect to have on standby in the fridge ready to fill tartlet cases. If you can't be bothered making your own pastry, buy ready-made. I love dishes that can be done ahead of time, so I can enjoy the party too!

RASPBERRY CURD TARTLETS RECIPE
Makes 24
Pastry
• 150g flour
• 100g butter
• 2 Tbsp sugar
• 1 egg
Curd
• 1 cup raspberries
• 100g butter, melted
• 100g caster sugar
• 3 eggs, lightly whisked
• Extra raspberries for garnish
1. Preheat an oven to 180C.
2. Make the tart cases. Whizz the flour, butter and sugar in a kitchen processor until it resembles fine breadcrumbs. Add the egg and whizz to form a dough. Add a teaspoon of cold water, if needed.
3. Roll the dough on a lightly floured bench. Line 24 mini muffin tins with pastry. Place the tins on top of each other and place an extra tin on top. Bake in the oven for 15 minutes. Tip the tins upside-down and separate, leaving the pastry on the outside of the tin. Place back in the oven for 5 minutes to finish cooking.
4. To make the curd, whizz the raspberries and push through a sieve to remove the pips. Place the melted butter, sugar, lightly whisked eggs and raspberries in a bowl over simmering water. Cook, stirring occasionally, for 15 minutes until thick and delicious. Remove and cool completely, preferably overnight.
5. Just before serving place a dollop of curd in each tart case and top with a raspberry.


Tom Dixon tray and tumblers from Simon James, bowls, plates and forks from Collected, fairy lights and tray from Father Rabbit, decanter and glassware from The Studio of Tableware, star decorations and servers from Milly's Kitchen, napkins from Taylor Road Homeware and platter from Nest.
Photographer / Babiche Martens. Food Stylist / Angela Casley. Props Stylist / Anna Lee.
STOCKISTS: Collected (09) 630 9721, Father Rabbit (09) 360 2573, Milly's Kitchen (09) 376 1550, Nest (09) 302 5704. Simon James (09) 376 6955, Taylor Road Homeware (09) 378 1948, The Studio of Tableware (09) 638 8082.
Share this:
More Food & Drink / Recipes