The Renaissance Of Rata, The Restaurant Harnessing Queenstown's Culinary Playground
Rata's new head chef is ushering in an exciting new chapter for this Queenstown favourite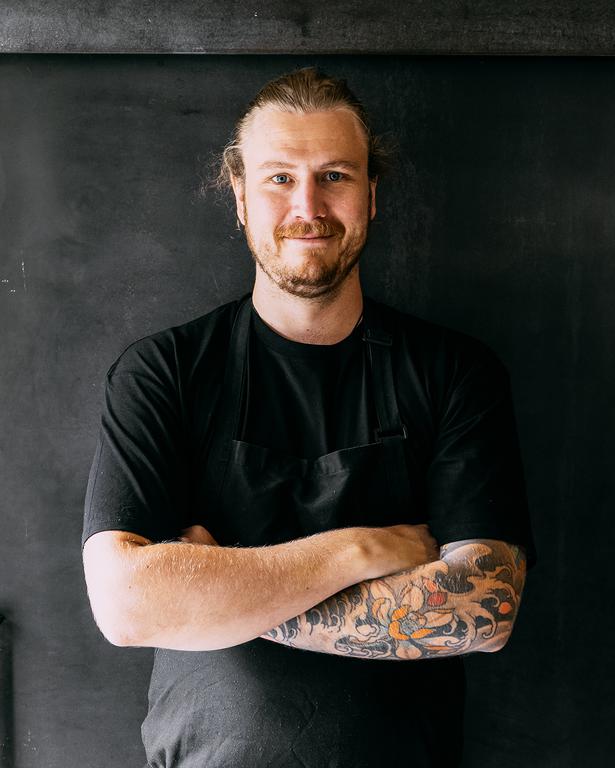 Friday Jan. 28, 2022
After stepping quietly into the position of head chef at Queenstown's Rātā in November, Michael Bickford is ready to make some noise.
In two short months, which included three slammed holiday period weeks that saw Queenstown get its groove back, Michael has invigorated the restaurant's clientele with his big, bold, umami flavours.
Michael has been charged with bringing Rātā into a new decade — the restaurant turns 10 in May and things are already feeling fresh, vibrant and more youthful.
The kitchen team are out of chefs' whites and into black T-shirts and they're excited by the experimentation that's going on.
The reformatted menu is less descriptive to Michael's preference: A starter which he describes as a play on ika mata (something his dad used to make with kahawai caught from the sea in front of his childhood home in Te Awanga) and ceviche with a marinade similar to the Peruvian leche de tigre using hemp seed milk seasoned with elderflower vinegar, fish sauce and sugar, split with a bright red chilli oil; reads as "scallop, apple, hemp seed, water chestnut".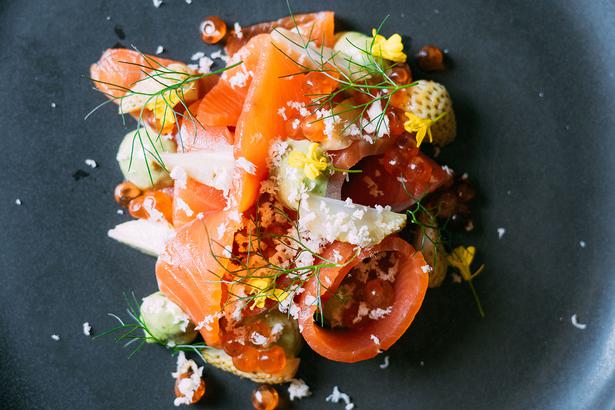 "By only listing ingredients on the menu, the front of house has to know what they are serving, and it gives them more chance to be interactive with the guests," says Michael. "It's also intriguing for the guests, and they have less expectations — people can read a description and then get served a dish that doesn't match up because they have built an idea of what it will be."
Michael says he uses only local ingredients. "We will continue to champion ingredients native to Otago and Southland and wider New Zealand."
Coconuts don't grow in New Zealand, hence the ceviche is made with hemp seed milk. The elderflower vinegar is made in house using flowers foraged locally — something he encourages.
READ: Where To Eat, Drink & Stay In Arrowtown
"Marcus, our pastry chef, is a keen mountain biker who spends a lot of time up in the pine trees, which have soft, fragrant young pine needles at this time of year, so we've created a dessert that combines them with Cromwell cherries and a caramelised soy icecream. It's very herbaceous and Christmassy — interesting but also familiar — that's how I like to cook."
Another dessert, listed as "rhubarb, white chocolate, pink peppercorn, tomato" also fits into this category.
"The desserts are not overly sweet — the rhubarb and the pine needles are almost savoury — and they are different, there are no classics here. The tomato element is a sorbet that people find weird but in a good way. It gets people talking and their friends come in to try it."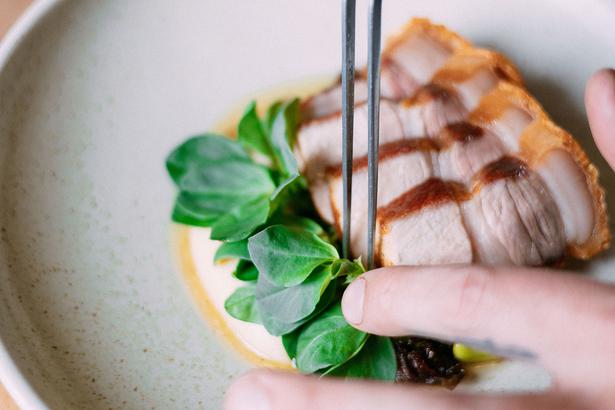 Rabbit and goat will be going on the menu. "Goats are everywhere down here. It's one of those things we should be using, and I would like to show that goat can be as good as lamb."
The idea is for Michael to spend more time meeting producers and discovering new ingredients, but he needs a solid team to give him that time and Covid continues to make that impossible.
READ: Where To Eat, Shop & Stay Next Time You're In Queenstown
We can thank Covid for bringing Michael back to us. After spending seven years working in Australia for some of the greats, including the Royal Mail Hotel, Ides and Goma, he was hours away from getting on a plane to the UK when Covid stopped him.
"I was in the Viaduct having lunch with my mum on our way to the airport, but the Covid updates and messages from friends over lunch made me pull the pin. I got stuck in lockdown for a few months and then headed down here to snowboard and try and work it all out. When I got back to Auckland, I realised I wanted to be in Queenstown."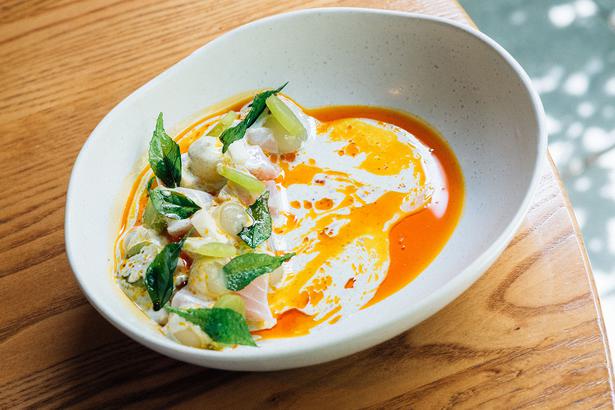 Rātā came along at the right time, which is typical of this 28-year-old's career path. He started young and has been in the kitchen full time for 12 years.
"I wasn't a huge fan of school, and I knew I wanted to cook. I had spent three days in the Vinnies kitchen with my stepbrother who was sous chef (Andrew is currently executive chef at Amano) and I knew I could handle the kitchen environment, so I left school at 15 and went to Polytech."
An apprenticeship opportunity at The Farm at Cape Kidnappers saw Michael finish his training there for two years before jumping on a plane to Melbourne where more opportunities led him to the Royal Mail Hotel, where he says he learnt a lot under Robin Wickens.
Of his cooking style, Michael doesn't like to categorise. "I think it changes and is influenced by where you are, but my food is always flavour-driven. I make something delicious first, then tweak things to make a dish interesting. It's all about making good produce taste great and not messing with it too much."
This is clearly evident when reading the menu, even the sourdough, made with Speight's Old Dark and served with marmite butter gets the taste buds tingling.
It's a "want it all" menu and to this diner's delight Michael is expanding the snacks section so that we can all enjoy more, smaller tastes of Chef's deliciously interesting local cuisine.
Share this: