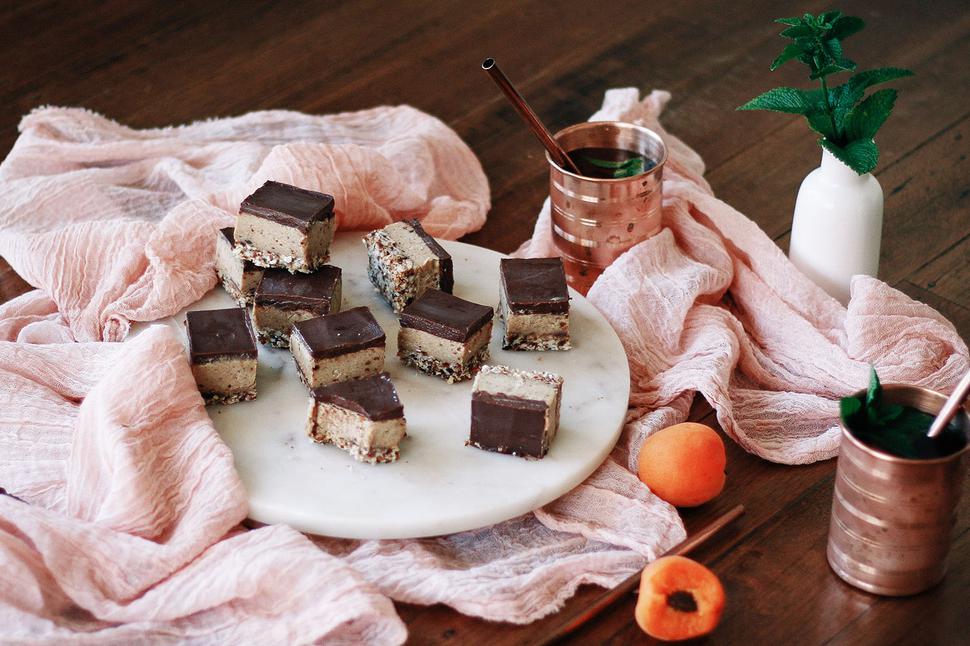 Raw Almond Butter Caramel Slice
A deliciously buttery base topped with a sweet silky caramel filling makes this the ultimate sweet treat - but with a wholesome twist
Thursday March 1, 2018
If I had to pick one sweet treat for the rest of my life, it would most definitely be caramel slice, with its deliciously buttery biscuit base, and silky, rich filling. This recipe is a magical transformation of simple, wholesome ingredients, into something I think you'll really enjoy eating. Be sure to serve in appropriately small slices as it's rather decadent.
RAW ALMOND BUTTER CARAMEL SLICE
Makes 12 small slices
Base
¾ cup rolled oats or shredded coconut
¾ cup dates, pitted
¾ cup almonds, or nuts of your choice
3 Tbsp melted coconut oil
2 Tbsp water
A pinch of sea salt
Caramel Filling
¾ cup almond butter, or nut butter of your choice
1/3 cup coconut cream
½ cup coconut oil, melted
1/3 cup pure maple syrup or honey
2 tsp pure vanilla extract
A pinch of sea salt

Chocolate Topping
150g good quality dark chocolate
¼ cup coconut cream
2 Tbsp coconut oil, melted

1. Add the base ingredients to a food processor, and process for twenty seconds or so, until the mixture resembles coarse breadcrumbs. Add the coconut oil and water, and pulse until the mixture starts to come together. Press mixture evenly into a slice tin lined with baking paper.
2. Add caramel ingredients to a food processor or blender, and blend until silky and smooth. Pour the caramel on top the base, and smooth out evenly using a spatula. Pop in the freezer to set for at least 45 minutes.
3. Lastly, melt the chocolate over a double boiler, and then whisk in the coconut cream and coconut oil until well incorporated and glossy. Pour over the caramel, and smooth out evenly. Place in the freezer to set for at least 3 hours.
4. To serve, remove from the freezer and allow to thaw for 15 minutes, slice into thick pieces, and enjoy. 
Store in the fridge or freezer.
Share this:
More Food & Drink / Recipes