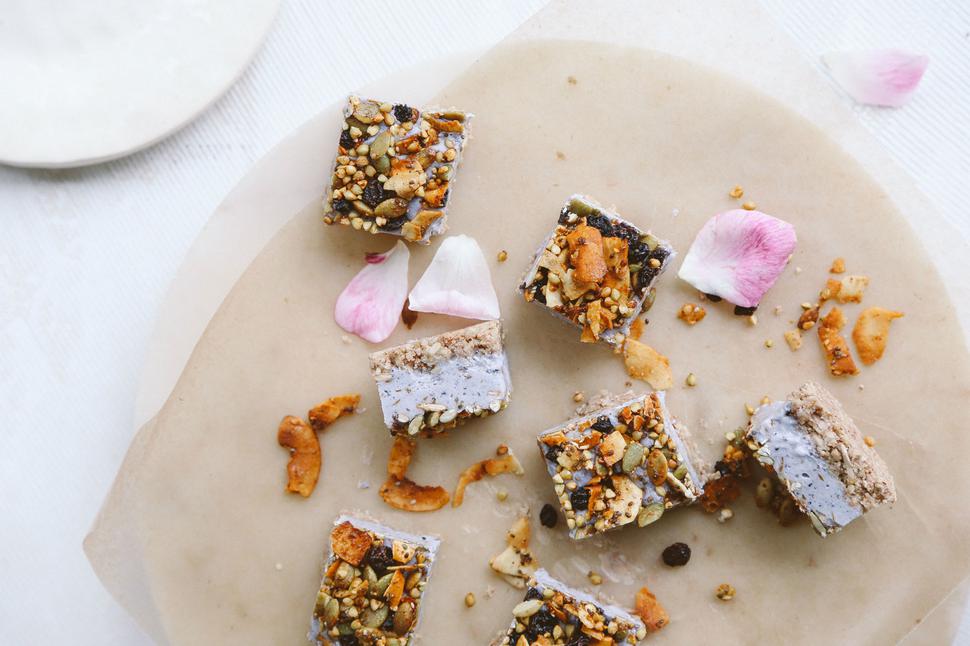 Raw Boysenberry Cheesecake Slice With Granola Crust
This ultra lush dessert is healthier than its contemporaries, but you wouldn't know it
Thursday July 19, 2018
This raw berry cheesecake slice recipe will have you smitten with only one, delicious bite. Not only is it healthy and filled with nourishing ingredients, you'll find it's also incredibly fuss-free to make and can be whipped up in no time at all. The toasty granola topping adds some crunchy variation to the silky smooth filling, however, you can top it with whatever you please.
It's also gluten, dairy and refined sugar-free, so it's perfect for sharing with just about everyone. 
RAW BOYSENBERRY CHEESECAKE SLICE RECIPE
Makes 12 small slices

For the base:
¾ cup shredded coconut
¾ cup Medjool dates, pitted
¾ cup sunflower seeds
2 Tbsp melted coconut oil or unsalted butter
2 Tbsp water
Pinch of sea salt
For the filling:
1 cup cashews, soaked overnight
¾ cup coconut cream
¼ cup fresh lemon juice
½ cup fresh or frozen boysenberries
½ cup coconut oil, melted
1/3 cup pure maple syrup or honey
2 tsp pure vanilla extract
Pinch of sea salt
For the topping:
1 cup toasted granola, toasted coconut flakes or topping of your choice
1. Add the dry base ingredients to a food processor, and process for twenty seconds or so, until the mixture resembles coarse breadcrumbs. Add the coconut oil and water, and pulse until the mixture starts to come together.
2. Press mixture evenly into a slice tin lined with baking paper.
3. Add all filling ingredients to a food processor or blender, and blend until silky and smooth. Pour the filling on top of the base, and smooth out evenly using a spatula. Sprinkle the granola or toppings of your choice on top.
4. Place in the freezer to set for at least 6 hours.
5. To serve, remove from the freezer and allow to thaw for 15 minutes, slice into thick pieces, and enjoy. Store in the fridge or freezer. 
Share this:
More Food & Drink / Recipes