Raw Burger Recipe
Olivia Scott of The Raw Kitchen shares a recipe for burgers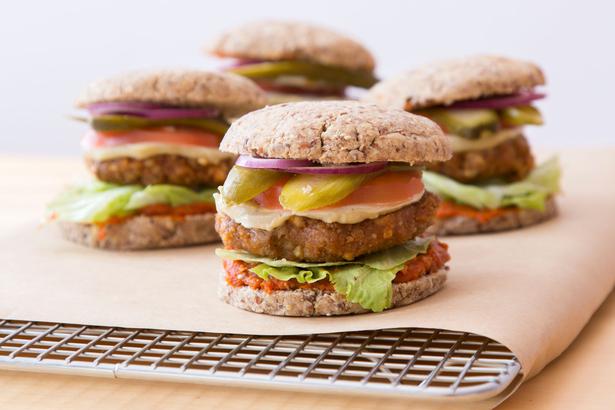 Tuesday May 10, 2016
RAW BURGER RECIPES
Makes 4 
Buns
1 cup gluten-free oats
1½ cups dehydrated almond pulp or almond flour
1/3 cup flaxseeds
3 Tbsp filtered water
4 tsp lemon juice
3 Tbsp rice malt syrup
1 tsp Himalayan sea salt
Filling
1 cup Walnut Mince (see below)
1/3 cup raw tomato sauce
4 leaves iceberg lettuce
1 Tbsp Quick Cheese (see below)
1 tomato, sliced
2 pickles, sliced
½ red onion, sliced
To make the buns, blend the oats in a high-speed blender until fine. Place in a bowl and set aside. Blend the almond pulp or flour until fine, and add to the oats. Add the rest of the ingredients and mix, using your hands, to form a dough. Add more water if needed. Divide the dough into four and mould each piece into a bun shape. Place in a dehydrator tray and dehydrate for 6 hours.
Use your hands to mould the Walnut Mince into a patty shape and set aside. Carefully cut each burger bun in half and lay open. Spread Tomato Sauce evenly onto each bottom half. Top with a lettuce leaf, 'mince' patty, a slice of cheese and slices of tomato, followed by pickles and red onion. Place other bun half on top.
Quick Cheese
Makes 2 ½ cups
2 cups cashews
2 Tbsp apple cider vinegar
1 Tbsp savoury yeast flakes
½ tsp Himalayan pink salt
½ tsp freshly ground black pepper
1 Tbsp agave nectar
1/3 cup (83ml) filtered water
2 Tbsp extra virgis olive oil
To make quick cheese, place all ingredients in a high-speed blender, and blend until smooth. Scrape down the sides of the jug occasionally to ensure all ingredients are blended. Store in an airtight container in the refrigerator for up to two weeks. 
Walnut Mince
Makes 2 ½ cups
2 cups walnuts
1 Tbsp rice malt syrup
1 tsp smoked paprika
1 clove garlic
½ tsp ground cumin
½ tsp ground coriander
3 Tbsp tamari
1 tsp liquid smoke (optional)
Place all ingredients in a food processor and process on medium for 2 minutes. Store, refrigerated, in an airtight container for up to two weeks.
This recipe was extracted with permission from The Raw Kitchen by Olivia Scott, published by Beatnik Publishing, $60.

Share this: