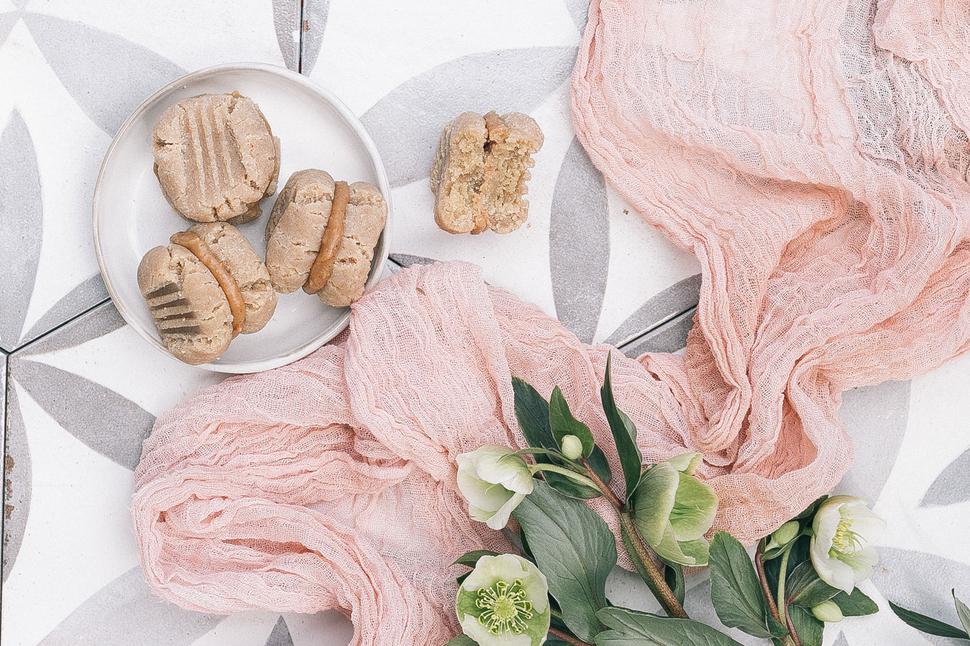 Raw Ginger Kisses With Vanilla Maple Cream Filling
This beloved biscuit gets a nourishing makeover that's almost too good to be true
Thursday Oct. 4, 2018
These sweet little raw ginger kisses are indulgently divine, and made entirely with nourishing ingredients. I love the simple flavours here: vanilla, maple and coconut, with a subtle hint of spice. What's even better is how quick they are to make.
This recipe is also gluten, dairy and refined sugar-free, and vegan-friendly. 
RAW GINGER KISSES RECIPE
Makes 6
For the cream filling:
3 Tbsp melted coconut oil
3 Tbsp coconut cream
2 Tbsp coconut butter or other nut butter
2 Tbsp pure maple syrup
1 tsp pure vanilla bean paste

For the cookies:
2 cups ground almonds
4 Tbsp pure maple syrup
1/3 cup melted coconut oil
3 tsp ground ginger
A pinch of sea salt
2 Tbsp water
1. Start by making the cream filling. Combine all ingredients in a blender, and blend until smooth. Pour into a bowl, and place in the fridge to firm up/thicken while you make the cookies.
2. Place all cookie ingredients into a large bowl, and mix until the mixture comes together and starts coming away from the side of the bowl.
3. Form the mixture into small balls, then flatten into a cookie shape using your fingers or a fork. Place in the freezer to set for at least 15 minutes.
4. Remove the filling from the fridge, and stir well, It should be creamy and luscious.
5. Place a dollop of cream filling on to every second cookie, then place a plain cookie on top.
6. Store, refrigerated, in an airtight container for up to a week. They also freeze well.
Share this:
More Food & Drink / Recipes