The Raw Kitchen's Chocolate, Vanilla Bean and Boysenberry Gateau Recipe
Olivia Scott from The Raw Kitchen shares a decadent recipe with us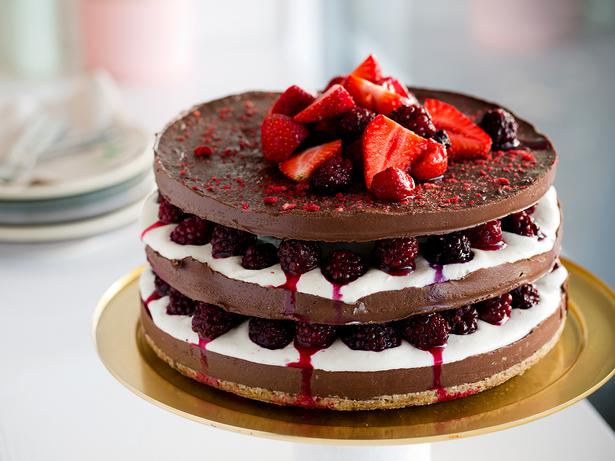 Monday Feb. 2, 2015
CHOCOLATE, VANILLA BEAN AND BOYSENBERRY GATEAU
Serves 14
Equipment
Food processor
High speed blender (Vita-Mix, Blendtec or Omni Blend are great options)
3 x 22cm springform pans
Base
1 cup sunflower seeds
1 cup coconut chips
1 tsp Himalayan sea salt
1 vanilla bean - whole, seeds removed
3 Tbsp coconut oil
1 cup dates
Chocolate gateau
3 cups cashews
1 cup coconut chips (soaked for 10 minutes in warm water)
1 cup coconut water (or filtered water)
1 cup raw cacao powder
1 cup pitted dates (soaked for 10 minutes in warm water)
1 vanilla bean - whole, seeds removed
1 tsp Himalayan sea salt
½ cup agave syrup (or coconut nectar, rice malt syrup)
1 cup coconut oil
3 Tbsp psyllium husk
Vanilla Bean Cream
2½ cups cashews
1 cup coconut cream
½ cup coconut oil
½ cup agave syrup
1 vanilla bean - whole, seeds removed
Garnish
2 cups boysenberries
1 cup fresh strawberries

METHOD
Base
1. Line springform pans with baking paper.
2. In food processor, blend sunflower seeds, coconut chips, sea salt and vanilla bean until fine. Add coconut oil and blend until well mixed. Add dates and blend until sticky.
3. Press into first spring form pan and press base flat with back of a spoon. Set aside in the fridge.

Chocolate Gateau
1. In blender, place cashews, coconut chips, coconut water, raw cacao powder, pitted dates, vanilla bean, sea salt and agave syrup and blend until smooth.
2. Add coconut oil and blend until creamy and well mixed. At the very end, add psyllium husk. Work quickly as psyllium husk will set your mixture.
3. Pour one third of mixture on top of base. Pour another third each into other two springform pans. Spread these flat and place in freezer to set for eight hours.
Vanilla Bean Cream 
Add all ingredients to blender, and blend gently until peaks start to form. Add more cashews if it is too runny.
Assembly
1. Spread vanilla bean cream about 2cm thick on to first and second gateau layers. Decorate each layer with boysenberries, making sure there is even spacing between each berry (this is important to hold up the layers).
2. Place second layer on top of first layer, and third layer on top. Decorate top of gateau with strawberries and any extra berries, nuts or seeds. Other options are freeze-dried berries, pistachios, macadamias, kiwifruit or passionfruit.
3. Keep in the fridge, and serve with fresh coconut yoghurt. Will last three days in refrigerator, or up to two months in freezer.
* Gluten free, dairy free, refined sugar free
Share this:
More Food & Drink / Recipes