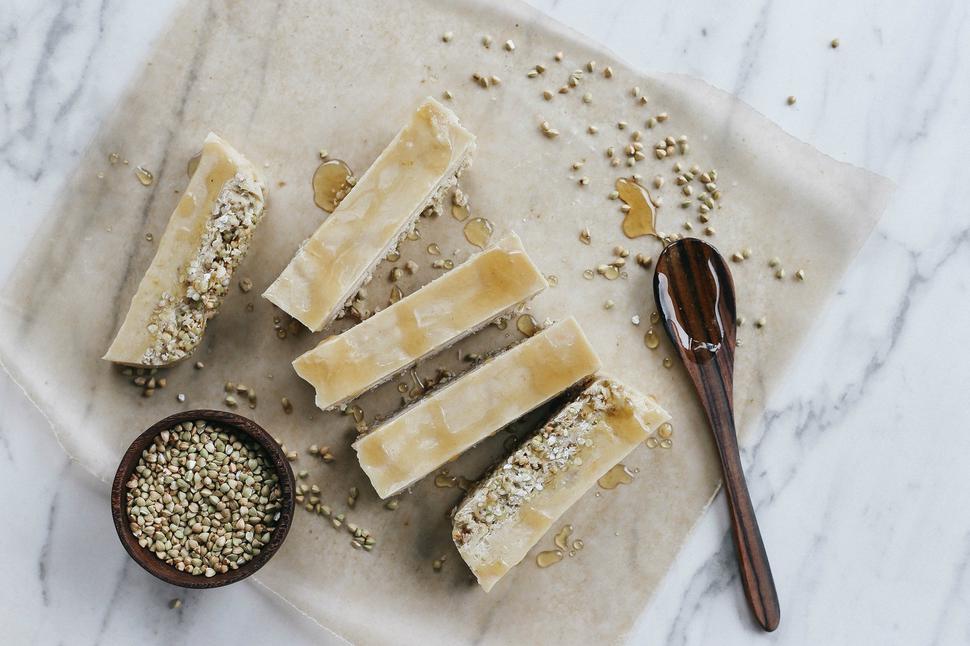 Raw Salted Honey & Lemon Cheesecake Bars
Prepare to fall head-over-heels for this lush dessert
Thursday Nov. 15, 2018
Luxuriously creamy, these salted honey and lemon cheesecake bars are made entirely from simple, pure ingredients. The texture is rich and velvety, yet still maintains a certain lightness when cut with a spoon. You'll also taste a beautiful, soft undertone from a touch of honey, the kind of sweetness that lingers perfectly. It's also dairy, gluten and refined sugar-free, so it's perfect for sharing. 
RAW SALTED HONEY & LEMON CHEESECAKE BARS RECIPE
Serves 8 
Base:
½ cup of pecans, roughly ground
½ cup raw buckwheat groats
2 Tbsp honey or pure maple syrup
3 Tbsp coconut oil, melted
Pinch of sea salt
Filling:
1 cup coconut cream
1 cup raw cashews, soaked overnight in water then drained well
1 lemon, zest and juice 
½ cup melted coconut oil
¼ cup honey, gently melted
3 tsp pure vanilla extract
3/4 tsp sea salt
1. Line a loaf tin with baking paper.
2. Start by preparing the base. Put all ingredients into a food processor, then process until the mixture starts to come together, about 1-2 minutes. Press the mixture evenly into the prepared loaf tin.
3. To prepare filling, put all ingredients into a high powered blender or food processor. Process until smooth and creamy, about 1-2 minutes.
4. Tip the mixture into the loaf tin and smooth out evenly.
5. Pop in the freezer for at least 4 hours, or overnight, to set.
6. Remove cake from the freezer, allow to thaw slightly, then carefully transfer to a wooden board. Slice into thick pieces, and then top with a drizzle of honey if desired.
Share this:
More Food & Drink / Recipes