Recipe: A healthier potato salad
Each Thursday Eleanor Ozich of Petite Kitchen will share her thoughts on healthy eating, with recipes and more. Today, a potato salad recipe.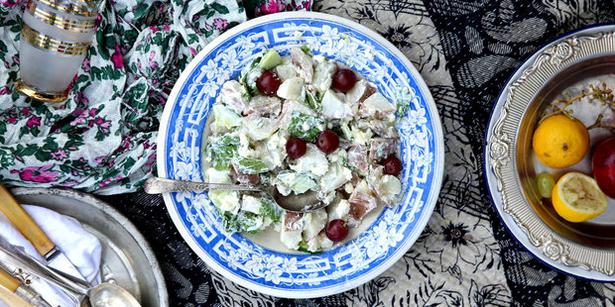 Friday Aug. 29, 2014
Today, I share with you a healthier take on the classic potato salad, with a few added twists. This wonderful, light and fresh salad is incredibly simple to throw together and has a lovely mix of exciting and zingy flavors. Sweet and juicy red grapes meet salty capers. Both work in perfect harmony with the creamy yet slightly tangy minted yoghurt dressing. I have used red rascal potatoes, but new potatoes would also work well. The perfect salad for a spring picnic!
A HEALTHIER POTATO SALAD WITH RED GRAPES, CUCUMBER AND MINTED NATURAL YOGHURT
Serves 2 as a light meal, or 4 as a side
Ingredients
• 4 red rascal potatoes
• 1/2 a cucumber
• A large handful of red or green grapes
• A handful of capers
• A large handful of mint, roughly chopped
• Juice of one lemon
• 4 tbsp natural yoghurt
• A drizzle of extra virgin olive oil
• Sea salt
• Pepper
1. To prepare the potatoes, scrub well then cut in to small cubes. Place the potatoes in to a large saucepan and then cover with salted water.
2. Bring to the boil, then simmer, uncovered until just cooked. Be careful not to overcook them. Strain, and then set aside to cool.
3. To prepare the vegetables, slice the cucumber lengthwise, and then slice in to 1cm thick pieces.
4. Once the potatoes have cooled, place them in to a large salad bowl, along with the cucumber, grapes, capers, mint, lemon juice and natural yoghurt.
5. Drizzle generously with extra virgin olive oil, and then sprinkle with sea salt and pepper.
6. Mix until just combined, and then serve.
Share this:
More Food & Drink / Recipes