Recipe: Asparagus and bocconcini ball salad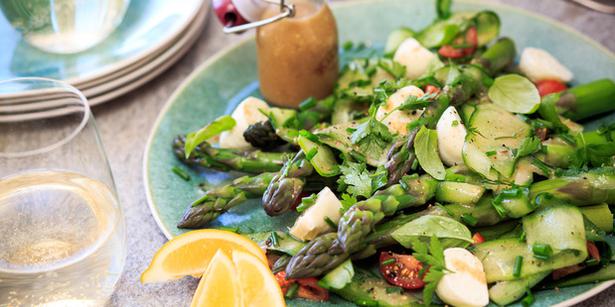 Wednesday Oct. 22, 2014
ASPARAGUS AND BOCCONCINI BALL SALAD
Serves 4
Dressing
• ¼ cup olive oil
• 2 Tbsp lime juice
• 1 tsp honey
• 1 tsp dijon mustard
Salad
• 2 bunches asparagus, trimmed
• 1 cup cherry tomatoes, halved
• ½ telegraph cucumber, peeled into thin slices
• 200g bocconcini balls, halved
• ½ cup mixed soft herbs: chives, dill, basil or parsley
1. First, combine dressing ingredients in a jar and shake well.
2. Plunge asparagus into a pot of boiling water for three minutes. Remove while still vibrant green and place into icy water to cool them quickly.
3. Just before serving, assemble salad - into a large bowl place asparagus, tomatoes, cucumber and bocconcini. Toss with dressing. Season with salt and pepper.
4. Serve on a large platter, as a starter or side dish.
Share this: