Recipe: Asparagus mousse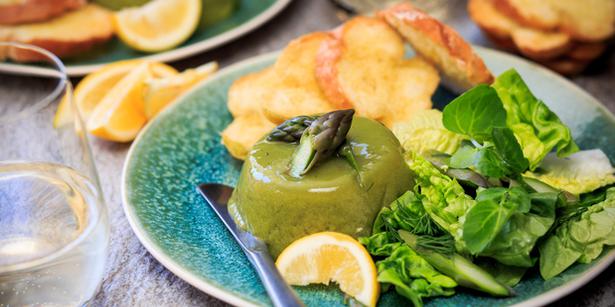 Wednesday Oct. 22, 2014
ASPARAGUS MOUSSE
Makes 6
• 1½ cups chicken stock
• 1 bunch asparagus, woody ends removed and chopped roughly
• 1 spring onion, chopped roughly
• 1 clove garlic, chopped roughly
• ½ cup spinach
• 4 tsp gelatine
• Salt and pepper, to taste
• 1 cup lightly whipped cream
1. Lightly oil six 120ml moulds.
2. Into a pot place one cup chicken stock. Add asparagus, spring onion, garlic, and spinach. Cook for 10 minutes until asparagus is totally soft.
3. Sprinkle gelatine over remainder of chicken stock and leave to swell for five minutes. Either heat in microwave for one minute or until liquid is clear. Or warm in a small pot on stove.
4. Into a kitchen blender place asparagus and puree until very smooth. Stop and scrape mousse down sides. Add gelatine and whizz again briefly. Season with salt and pepper to taste. Tip mixture into a bowl and allow to cool to room temperature.
5. Fold cream through gently. Pour mixture into moulds. Refrigerate covered for at least four hours or overnight.
6. When ready to serve, dip moulds in warm water and tip on to a plate. Serve with a little side salad and crispy mini toasts.
Share this:
More Food & Drink / Recipes