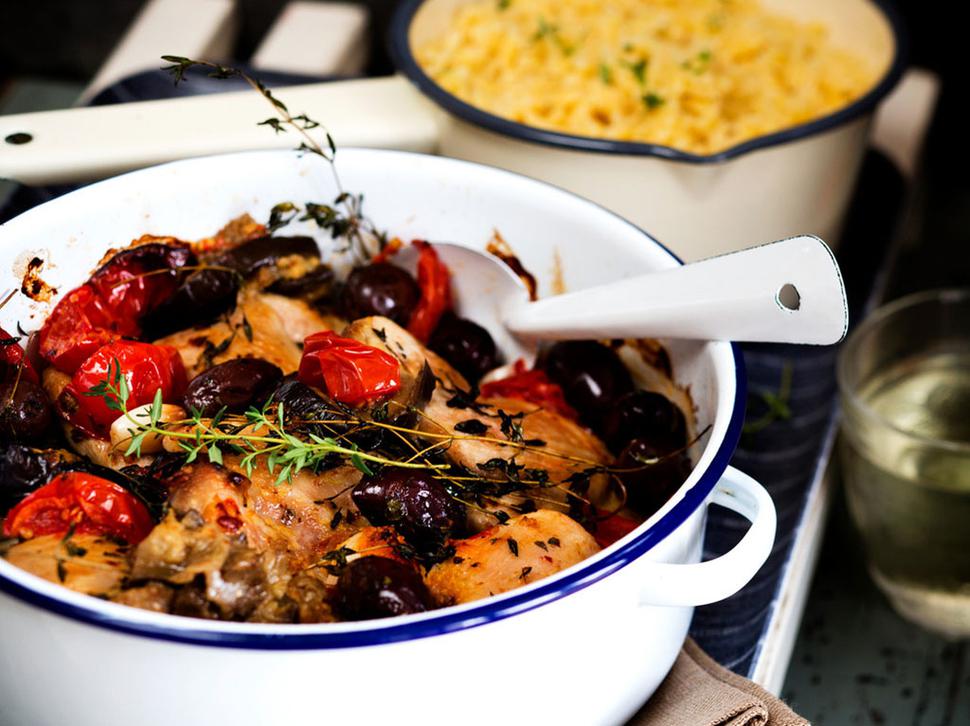 Recipe: Baked Chicken with Tomatoes, Aubergine and Olives
Friday April 4, 2014
BAKED CHICKEN WITH TOMATOES, AUBERGINE AND OLIVES
Serves 4
• 1 aubergine, sliced 1cm thick
• ¼ cup oil
• 8 skinless, boneless chicken thighs
• 4 cloves garlic
• 1 tsp brown sugar
• Zest and juice of 1 lemon
• ½ cup black olives
• 4 large tomatoes, cut into quarters
• Salt and freshly ground pepper
• 2 stalks thyme
1. Preheat oven to 180C.
2. Place aubergine slices into an ovenproof baking dish. Drizzle over 2 tablespoons oil and place in hot oven for 10 minutes to soften.
3. Heat remaining oil in a frying pan and brown chicken on both sides. Place on top of aubergine. Add garlic, sugar, lemon zest and juice, olives and tomatoes. Season with salt and pepper. Add thyme.
4. Return to oven for 40 minutes until tomatoes soften and chicken juices run clear.
5. Remove and serve hot with orzo or rice and a green side salad.
Share this:
More Food & Drink / Dinner