Recipe: Banana and vanilla bean muffins
Petite Kitchen's Eleanor Ozich shares her recipe for light and fluffy banana muffins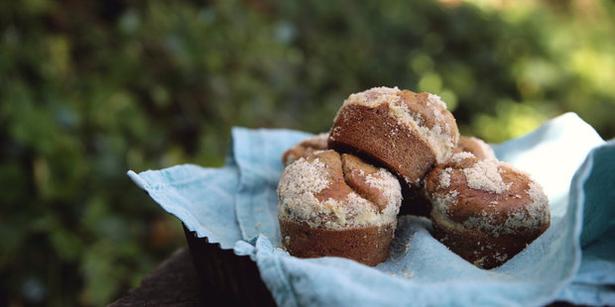 Thursday March 27, 2014
This is a variation of my favorite muffin recipe. They are seriously the lightest and fluffiest banana muffins, spiked with vanilla bean and finished with a dusting of almond meal. Perfectly simple, naturally sweet and tremendously easy to devour, these wholesome little muffins are fantastic for a quick breakfast on the go, kids' lunch boxes, or smeared with butter as an afternoon tea treat.
This recipe is ridiculously easy to prepare and can be easily adapted. I like to add dried fruit or nuts for a little texture; you could even add a little dark chocolate if that's your thing!

LIGHT AND FLUFFY BANANA & VANILLA BEAN MUFFINS
Makes 8 muffins
Ingredients:
• 2 ripe bananas
• 3/4 cup almond butter (peanut butter also works well)
• 2 heaped Tbsp extra virgin coconut oil (you could also use butter or cacao butter)
• 1 tsp pure vanilla bean paste
• 1 Tbsp apple cider vinegar
• 3 free range eggs
• 1 tsp baking soda
• 1/4 cup almond meal for sprinkling (optional)
1. Preheat oven to 180 C and grease or line 8 muffin tins with cases.
2. Place all ingredients except almond meal in a food processor. Process until smooth, then divide between muffin tins or cases.
3. Sprinkle each muffin generously with almond meal.
4. Bake for 15-20 minutes, or until a skewer comes out clean when inserted.

*Gluten free
*Dairy free
*Refined sugar free
Share this:
More Food & Drink / Recipes