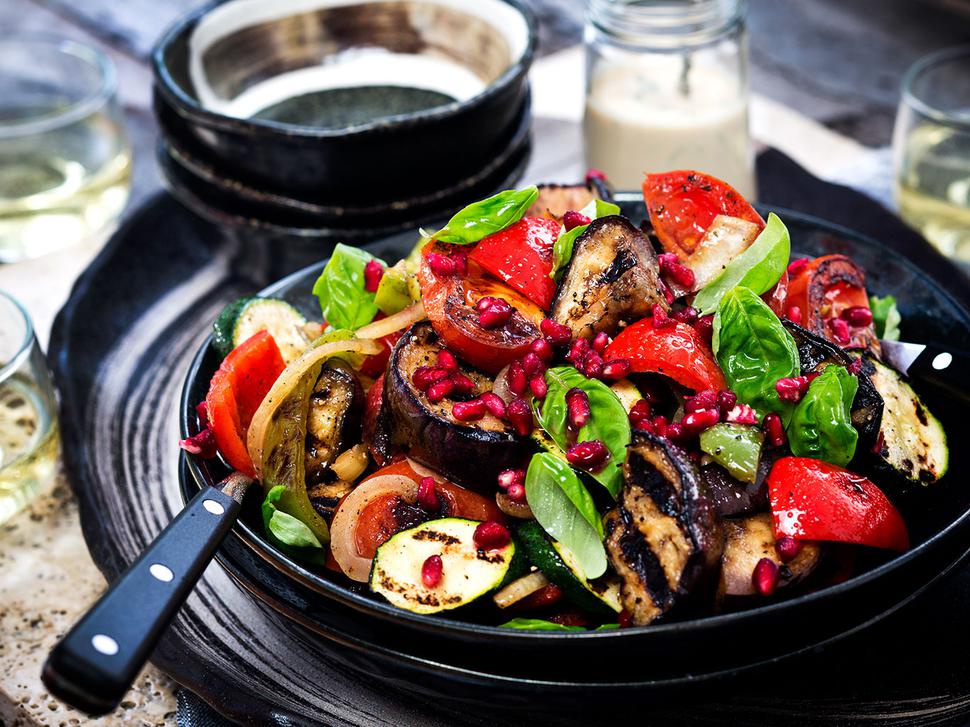 Recipe: Barbecue aubergine salad
Friday Jan. 24, 2014
BARBECUE AUBERGINE SALAD
Serves 4
• 50ml olive oil
• 1 large aubergine, cut into 3cm cubes
• 1 small onion, chopped
• 4 cloves garlic, crushed
• 1 red chilli, chopped finely
• 2 red peppers, seeds removed, cut into 3cm cubes
• 1 green pepper, seeds removed, cut into 3cm cubes
• 1 courgette
• 200g beans
• 2 large tomatoes, quartered
• Salt and freshly ground pepper, to taste
• ½ pomegranate, seeds removed
Dressing
• ½ cup Greek yoghurt
• ½ cup chopped basil
• 1 Tbsp pomegranate molasses
• Salt and freshly ground pepper
1. First make the dressing by combining all the ingredients, and refrigerate until needed.
2. Preheat barbecue to a medium heat. Pour 25ml oil on to the hot plate. Add the aubergine and cook for 5 minutes, or until soft. Remove and set aside.
3. Add the remaining oil then the onion, garlic, chilli, peppers, courgettes, beans, and tomatoes. Toss every 2 minutes and cook until slightly charred and golden and just cooked through. Add the aubergine back for the last 2 minutes to combine.
4. Serve on a platter. Sprinkle with pomegranate seeds and drizzle over the dressing.
Share this: