Recipe: Barbecued butterflied turkey with nut stuffing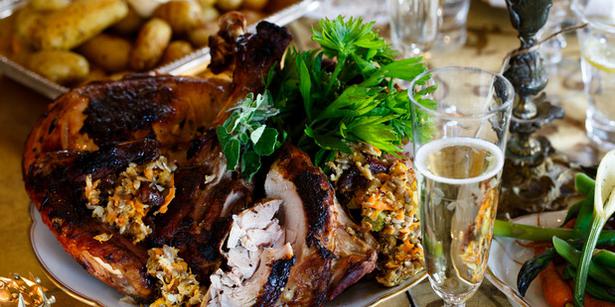 Wednesday Dec. 3, 2014
BARBECUED BUTTERFLIED TURKEY WITH NUT STUFFING
• 1 x 5kg turkey, butterflied
• 6 cups hot water
• 1 cup sugar
• ½ cup salt
• 4 cloves garlic
• ¼ cup olive oil
• 1 cup chopped fresh herbs
• Zest and juice of 2 lemons
• Salt and pepper
1. Remove the backbone and breastbone from the turkey to butterfly it.
2. To make a brine, dissolve sugar and salt in water and cool. Place turkey in a bucket or very large bowl. Add brine, cover and refrigerate overnight. Remove turkey from brine; dry with paper towels.
3. In a small bowl, combine garlic, oil, herbs, lemons, salt and pepper. Rub over the turkey and allow to marinate until ready to cook.
4. Preheat a barbecue to a medium heat.
5. Place a sheet of tinfoil on the barbecue hotplate. Place turkey on it, breast side down. It will take around 1½ hours to cook, depending on your barbecue. Check after 30 minutes and turn over. Baste with marinade and continue to cook. When juices run clear, turkey is cooked through. Remove from the barbecue, cover, and rest for 10 minutes.
6. Serve hot with stuffing and a selection of vegetables or salads.

Nut stuffing
• 1 cup chopped dates
• 2 Tbsp oil
• 2 onions
• 2 cloves garlic, chopped
• 1 ½ cups grated carrot
• 1 stick celery, chopped
• 1 tsp wholegrain mustard
• ¼ tsp chilli flakes
• ½ tsp oregano
• ¼ cup chopped parsley
• ½ cup sunflower seeds
• 1 cup chopped walnuts
• 1 cup breadcrumbs, soaked in a little milk
• 2 eggs
• salt and pepper to serve
1. Set oven to 170C. Line a 23cm ovenproof dish with baking paper.
2. Soak the dates in hot water for 10 minutes, then drain.
3. Heat oil in a frying pan. Add onion, garlic, carrot and celery. Cook for 5-8 minutes until softened.
4. Put dates, mustard, chilli, oregano, parsley, sunflower seeds, walnuts, breadcrumbs and eggs in a bowl. Season with salt and pepper. Add onion mix and combine well. Place mixture in lined dish and bake for 35 minutes until golden and crispy.
Share this:
More Food & Drink / Recipes