Recipe: Basic tomato sauce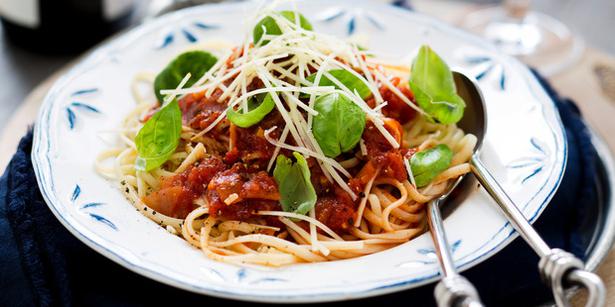 Tuesday July 15, 2014
Basic tomato sauce
Makes 2 cups
• 2 Tbsp olive oil
• 1 onion, chopped
• 4 cloves garlic, crushed
• 420g tin chopped tomatoes
• 200ml tomato puree
• 2 tsp balsamic vinegar
• 1 Dsp brown sugar
• 2 Tbsp fresh thyme leaves
• ½ cup torn basil leaves
To serve
• grated parmesan
• extra basil leaves
1. Heat oil in a medium size pot. Add onion and garlic. Cook for 4 or 5 minutes without browning. Add tomatoes, puree, balsamic, sugar and thyme. Bring to a simmer over a low heat. Cook for 20 minutes until sauce has thickened.
2. Add basil and season with salt and pepper.
3. Serve with spaghetti or your choice of pasta plus plenty of grated parmesan and extra basil leaves.
Share this:
More Food & Drink / Recipes