Recipe: Black Bean & Cacao Lava Cookies
Each Thursday Eleanor Ozich of Petite Kitchen will share her thoughts on healthy eating, with recipes and more.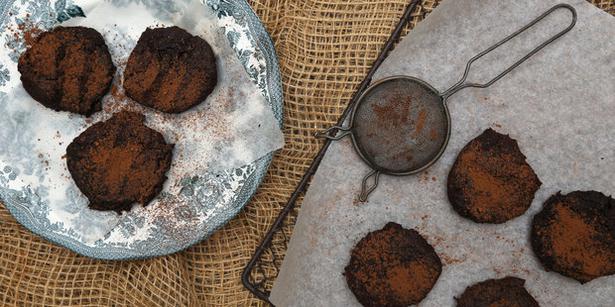 Thursday Feb. 27, 2014
These rich and velvety cookies have the most amazing soft and fudgey texture. Naturally gluten and dairy-free delights, these delights are seriously so incredible, I have decided to call them lava cookies. I swear, these lovely little morsels are sure to please even the most avid cookie fan, they're absolutely scrumptious!

BLACK BEAN & CACAO LAVA COOKIES
Recipe makes about 15-18 cookies; will keep for 3-4 days in an airtight container.
Ingredients:
• 1 can black beans, drained and rinsed (lentils or azuki beans work well too)
• 1/4 cup melted extra virgin coconut oil or butter
• 1/2 cup peanut butter (or any nut butter will do)
• 1/3 cup honey, maple or brown rice syrup
• 1/2 cup cacao or cocoa powder
• 1 tsp baking soda
• 1 tbsp apple cider vinegar
• Pinch of sea salt
1. Preheat the oven to 160C and line two trays with baking paper.
2. In a food processor, add all ingredients. Blend until smooth.
3. Spoon heaped tablespoons of batter on to the baking tray, leaving at least 2cm between each one. Press each cookie in half using a fork dipped in a little water to prevent it from sticking.
4. Place in the oven and bake for around 15 minutes. Be careful as they can burn easily. They will still be quite soft when you take them out. Leave to cool 
completely.
*gluten free
*dairy free
*refined sugar free
Share this:
More Food & Drink / Recipes