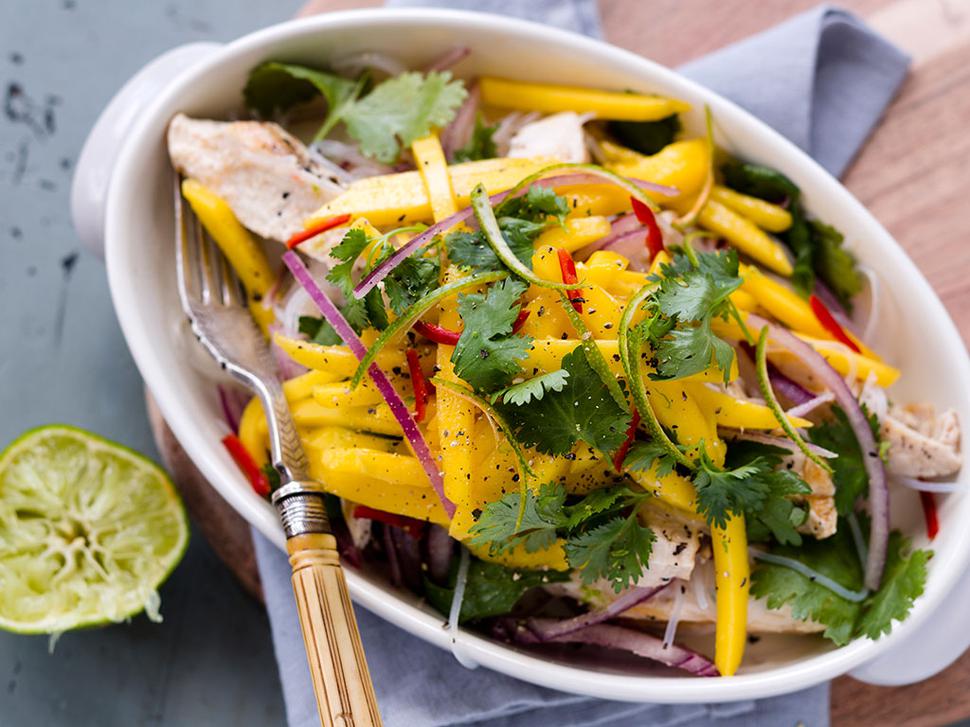 Recipe: Chicken and Mango Salad
Wednesday Feb. 4, 2015
CHICKEN AND MANGO SALAD
Serves 4
• 1 Tbsp olive oil
• 4 boneless, skinless chicken breasts, cut into strips
• 3 spring onions, sliced finely
• 1 chilli, seeds removed and chopped finely
• 3 handfuls of coriander leaves
• 1 handful mint leaves
• Zest of ½ lime or lemon
• 100g vermicelli, soaked as per instructions
• 1 mango, cut into thin strips
• Salt and pepper to taste
• Optional - ¼ cup toasted cashews to garnish
Dressing
• ¼ cup sweet chilli sauce
• 1 Tbsp oil
• 1 Tbsp brown sugar
• 1 tsp fish sauce
• 1 tsp sesame oil
• Juice of ½ lime or lemon
1. To make the dressing combine the sweet chilli sauce, oil, sugar, fish sauce, sesame oil and lime juice in a jar. Shake well to mix.
2. Rub the chicken with the oil and cook in a pan on a high heat or barbecue until cooked through. Set aside to cool.
3. Into a large bowl place the spring onions, chilli, coriander, mint, lime, vermicelli, chicken and mango. Toss through the dressing, season with salt and pepper, and toasted cashews if you wish, and serve.
Share this:
More Food & Drink / Dinner