Recipe: Chicken and shitake filo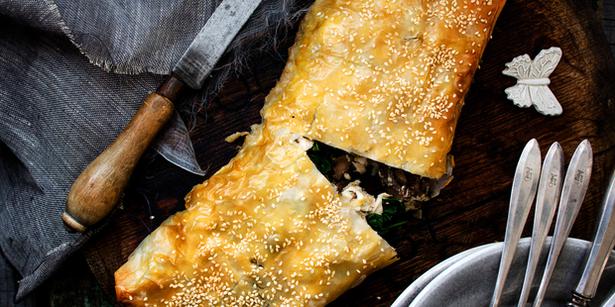 Friday March 21, 2014
Chicken and shitake filo
Serves 4
• 1 tbsp olive oil
• 300g shitake mushrooms, roughly chopped
• 2 cloves garlic, crushed
• 60g spinach
• 125g cottage cheese
• 50g parmesan, grated
• ¼ cup chopped basil
• 1 tsp lemon zest
• 300g cooked chicken, roughly chopped
• 6 sheets filo
• 15g butter, melted
• 1 egg, whisked, to glaze
• Sesame seeds to sprinkle
1. Preheat oven to 180C.
2. Heat oil in a frying pan to a medium heat. Add mushrooms and garlic. Cook for 4 or 5 minutes until softened. Add spinach and allow to wilt. Remove and allow to cool.
3. In a large bowl mix mushrooms with cottage cheese, parmesan, basil, zest and chicken.
4. On a piece of baking paper lay out a piece of filo, brush with butter and top with another piece.
Continue until all filo is used.
5. Place filling on one third of the filo, lengthways. Brush the edges with butter. Fold in the ends. Roll so the sealed edge is underneath.
6. Lift on to a baking tray. Brush with egg and sprinkle with sesame seeds. Place in the oven for 20 minutes or until golden.
Share this:
More Food & Drink / Recipes