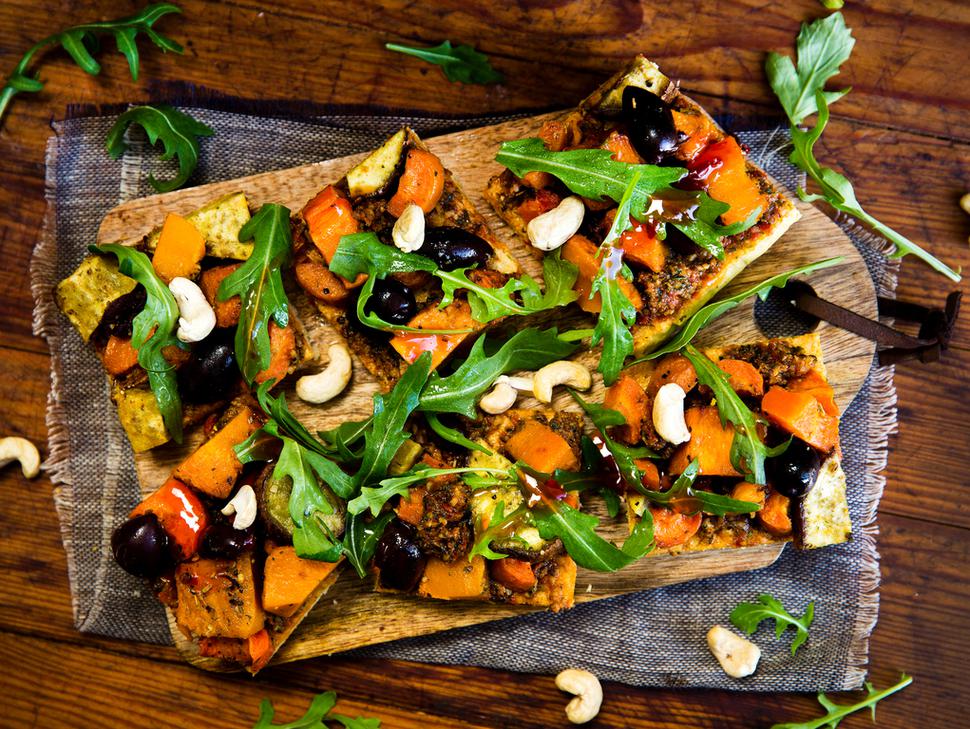 Recipe: Chickpea Slice with Warm roast Vegetable Salad
Tuesday Sept. 16, 2014
CHICKPEA SLICE WITH WARM ROAST VEGETABLE SALAD 
Serves 6
• 5 cups vegetables for roasting, cut in cubes
• 2 Tbsp olive oil
• 1 cup rocket leaves
Pesto
• 1 cup roughly chopped sundried tomatoes
• 1 handful rocket
• ½ cup olive oil
• ½ cup raw cashew nuts
• ½ cup parmesan cheese
• Salt and pepper to taste
Base
• 3 cups chickpea flour
• 1 tsp garlic salt
• ½ tsp salt
• 3 cups water
• 1 Tbsp oil
1. Preheat oven to 180C. Grease a 30 x 40cm Swiss roll tin thoroughly.
2. Roast vegetables on a baking tray for 30 minutes or until golden.
3. To make pesto - place sundried tomatoes, rocket, oil, cashews and parmesan in a food processor. Whizz until combined well. Season with salt and freshly ground pepper. Set aside.
4. To make base, place chickpea flour and salts in a large bowl. Slowly add water and oil, stirring while you do - this will stop any lumps. Pour into flat tin. Bake for 15 minutes until set.
5. Spread base with pesto, vegetables and scatter rocket leaves. Cut into pieces and serve.
Share this: