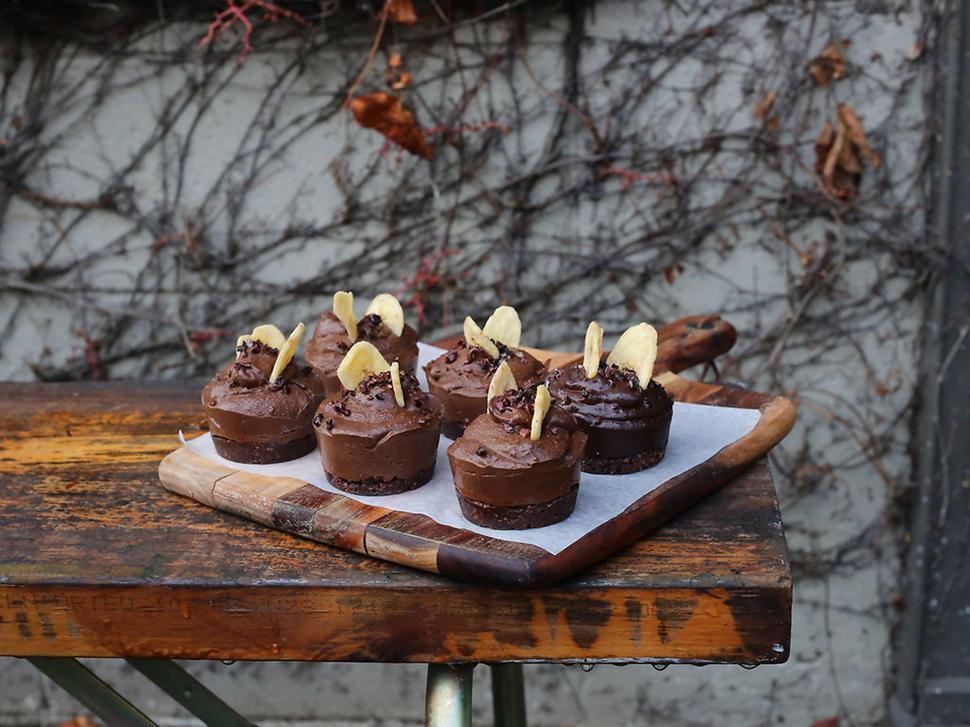 Petite Kitchen's Chocolate, Banana & Avocado Mousse Cakes Recipe
Eleanor Ozich shares her mousse cakes recipe sensation
Thursday July 16, 2015
The best things in life are simple — or at least the best recipes are. These luscious little chocolate, banana and avocado mousse cakes are a cinch to prepare, and contain only a few natural ingredients. The topping is sensationally creamy and rich, without being over-the-top sweet. I use raw honey in this recipe, although pure maple or rice malt syrup work well also.
CHOCOLATE, BANANA & AVOCADO MOUSSE CAKES
Makes 12 mini cakes or one large cake
For the base
• 2 cups almonds, cashews or nuts of your choice
• 3 Tbsp coconut oil
• 1 cup medjool dates
• A pinch of sea salt
For the filling
• ½ cup coconut oil, melted
• ¼ cup cashews or almonds
• ¼ cup honey, maple or rice malt syrup
• Flesh of 2 avocados
• 2 ripe bananas
• ¼ cup coconut cream
• 1 cup cocoa
For topping
• Cacao nibs
• Banana chips
1. To make the base, put all ingredients in a food processor and process until the mixture starts to come together like a dough. Press mixture evenly into 12 muffin tins lined with cases. Silicon moulds also work well. You could also make this as a large cake, if you prefer.
2. To make the filling, put all ingredients in the food processor, and process until smooth. Divide the mixture among the muffin tins and spread out evenly. Top with a sprinkle of cacao nibs and 2 banana chips if you like.
3. Place in the freezer to set for at least 3 hours or overnight.
4. Thaw for 20-30 minutes before enjoying. Store in the refrigerator.
• For more from Eleanor Ozich see petite-kitchen.com
Share this:
More Food & Drink / Desserts