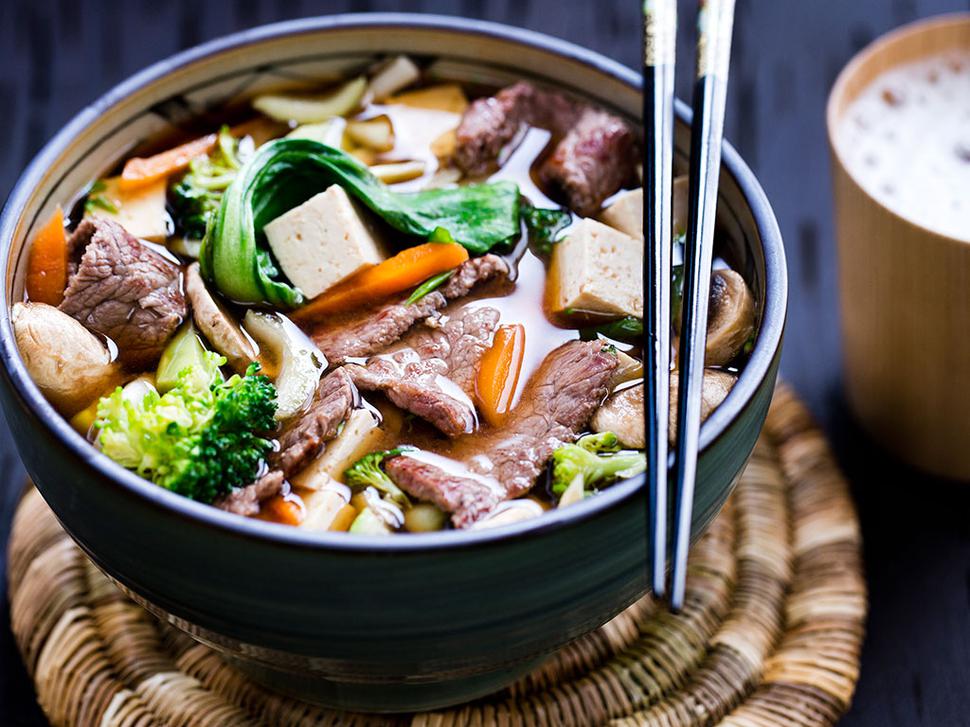 Recipe: Chunky vegetable and beef miso
Wednesday Aug. 20, 2014
CHUNKY VEGETABLE AND BEEF MISO
Serves 4
• 1 litre chicken stock or water
• ¼ cup miso paste
• 1 Tbsp grated ginger
• 1 Tbsp oyster sauce
• 1 Tsp sesame oil
• 1 carrot, cut into thin strips
• 1 cup broccoli florets
• 2 heads bok choy, sliced
• 100g tofu, cut into cubes
• 300g cooked noodles
• 1 Tbsp oil
• 200g sirloin, sliced thinly
• Salt and pepper to season
To serve
• 1 spring onion, sliced thinly, 
• ¼ cup chopped coriander
1. Place the stock or water, miso, ginger, oyster sauce and sesame oil in a large pot. Bring to a simmer whisking to mix the flavours.
2. Add the carrot and broccoli, cook for 2 minutes, then add the bok choy, tofu and noodles. Simmer for a further 3 minutes until the vegetables are cooked, but a little crunch remains.
3. Heat the oil in a frying pan to hot. Pan-fry the beef for 30 seconds each side. Add to the soup. Season with salt and pepper.
4. Serve hot with spring onion and coriander.
Share this:
More Food & Drink / Recipes