Churros Recipe
Angela Casley's churros recipe will be a hit all round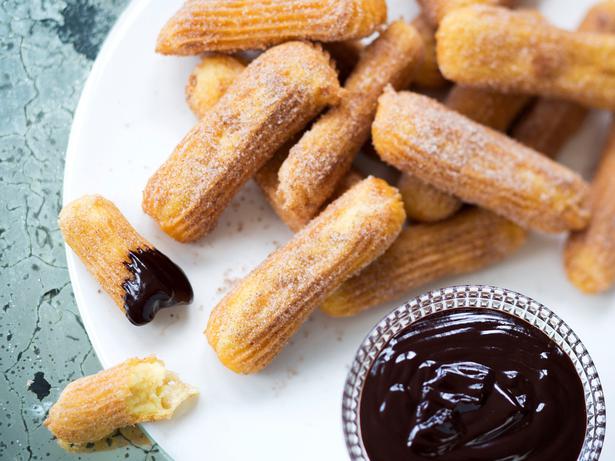 Wednesday Feb. 11, 2015
If you are looking for a dessert to impress your Valentine, try making your own churros — soft choux pastry, deep-fried and rolled in cinnamon before being dipped into warm chocolate sauce. What could be more romantic? Churros are eaten for breakfast in Spain, so these could be a decadent way to start the day.
Don't feel the churros all need to be a perfect shape. There is no rule about their size — long and twisted is fun. You can prepare the churros ahead of time and freeze, ready to drop straight into your deep fryer just before serving, or pipe the mix straight into the oil. Use a deep frying pan if you don't have a fryer, and turn the churros half-way through to ensure even cooking. This is a finger-licking fun dessert.
CHURROS
Makes 20
1 cup water
80g butter, cubed
1 cup flour
¼ tsp salt
3 eggs
½ cup sugar
1 Tbsp cinnamon
Sauce
100g chocolate, broken into pieces
150ml cream
1. Place water and butter in a pot and bring to the boil. Add flour and salt. Stir vigorously until the dough sticks together, forming a ball. Stir in the pot for 2 minutes to cook the flour. Remove and cool for 10 minutes.
2. Place the dough in a bowl and beat in the eggs, one at a time, until well combined.
3. Using a piping bag with a shaped nozzle, pipe 8cm lengths of dough on to a piece of baking paper. Place in the freezer until ready to cook.
4. Combine sugar and cinnamon in a bowl.
5. Make the chocolate sauce by combining chocolate and cream in a bowl over simmering water until smooth and delicious. Remove from heat.
6. To cook the churros, heat a deep fat fryer to a medium heat. Carefully drop the churros in, a few at a time, and fry for 3 or 4 minutes until cooked through and golden. Shake off excess oil and toss in cinnamon mixture.
7. Eat the churros while warm, dipped into the chocolate sauce.
Share this:
More Food & Drink / Recipes