Recipe: Coconut fish salad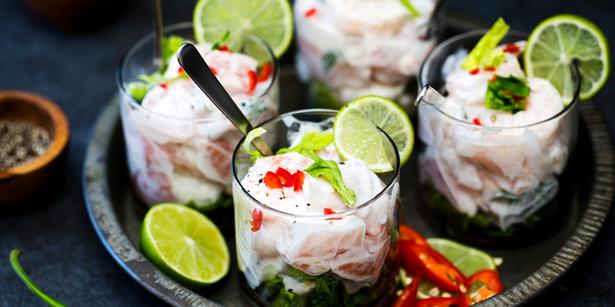 Wednesday Nov. 5, 2014
COCONUT FISH SALAD
Serves 4-6
• 100ml coconut milk
• 4 slices fresh ginger
• 1 red chilli chopped finely
• 1 tsp lemon zest
• 100ml Greek yoghurt
• Salt and freshly ground pepper
• 200g fresh fish, cubed
• 200g cooked prawns, tails removed
• Juice of 2 limes
• 1 cup shredded cos lettuceMint leaves and sliced chilli to garnish
• 1 lime, sliced
1. In a small pot place coconut milk, ginger, chilli and zest. Bring to a simmer for 3 or 4 minutes. Remove and cool. Then remove the ginger slices.
2. Stir the yoghurt into coconut milk. Season with salt and pepper.
3. Fold through fish, prawns and lime juice.
4. Place cos lettuce in the bases of 4-6 glasses. Spoon the fish over.
5. Garnish with mint leaves and chilli slices. Place a lime slice on the side of each glass.
Share this: