Coconut Rice Pudding Recipe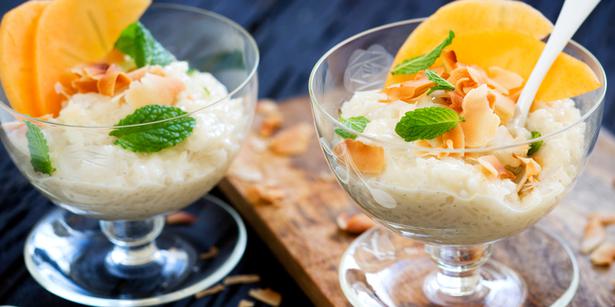 Friday June 13, 2014
COCONUT RICE PUDDING
Serves 4
1 vanilla pod
420g tin coconut milk
½ cup sugar
2 cups water
1 cup milk
3 slices fresh ginger
1½ cups sticky white rice or short grain
Pinch nutmeg
½ cup toasted coconut chips
1 persimmon, sliced thinly
1. Split vanilla pod down centre and scrape out seeds with a small knife.
2. Place vanilla pod and seeds, coconut milk, sugar, water, milk and ginger slices in a medium-sized pot. Slowly bring to a simmer.
3. Add rice, stirring occasionally, and continue to cook for 20-25 minutes until liquid is absorbed. Add a little extra milk if needed.
4. Remove from heat and take out ginger slices. Add nutmeg.
5. Serve warm with toasted coconut and slices of persimmon.
Share this:
More Food & Drink / Recipes