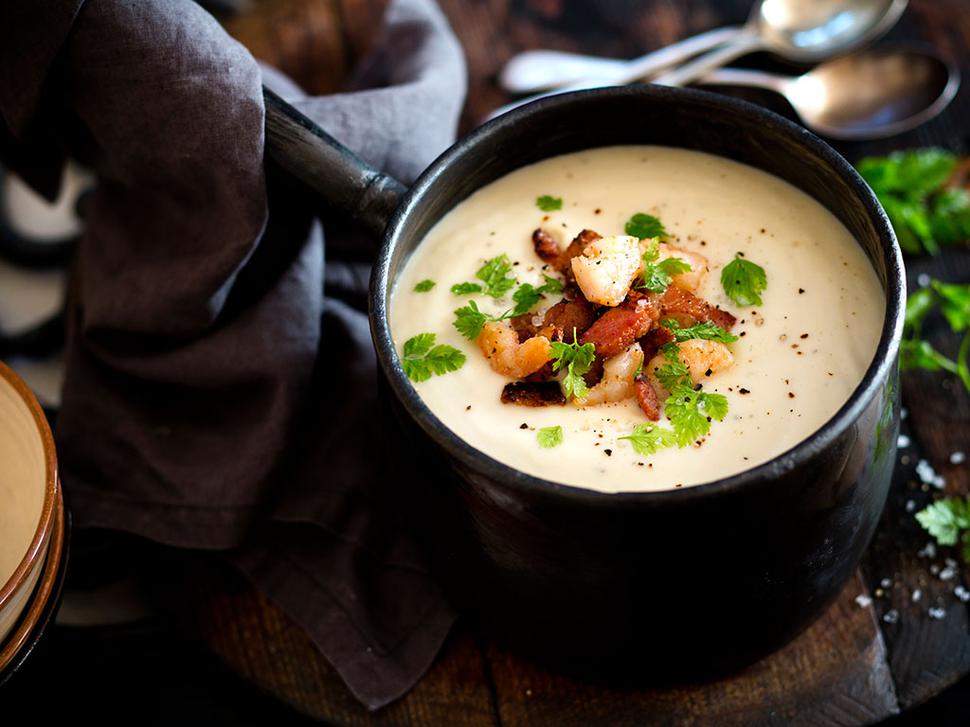 Recipe: Cream of Cauliflower Soup with Crispy Bacon and Prawns
Monday May 19, 2014
CREAM OF CAULIFLOWER SOUP WITH CRISPY BACON AND PRAWNS
Serves 4
• 20g butter
• 1 onion, chopped
• 2 cloves garlic, chopped
• 700g cauliflower, cut into small pieces
• 2 cup good quality chicken stock
• 2 cups milk
• ½ cup cream
• Salt and pepper to taste
• 1 tbsp olive oil
• 4 rashers streaky bacon chopped 
• 120g prawns, cut in half
• 2 tbsp chopped parsley, garnish
1. Into a large pot melt the butter. Add the onion and garlic. Saute for 4 or 5 minutes without browning. Add the cauliflower, stock and milk. Cover and cook for 15 minutes until the cauliflower is completely soft.
2. Using a stick blender or kitchen blender puree until very smooth. Return to a clean pot. Stir through the cream, season with salt and pepper, and reheat.
3. Just before serving heat the olive oil in a frying pan. Cook the bacon until crisp, then add the prawns and cook through.
4. Serve the soup hot, topped with bacon and prawns. Sprinkle with parsley.
Share this: