Recipe: Decadent raspberry and coconut chocolate torte
Each Thursday Eleanor Ozich of Petite Kitchen will share her thoughts on healthy eating, with recipes and more. Today, her recipe for a delicious raspberry and coconut chocolate torte.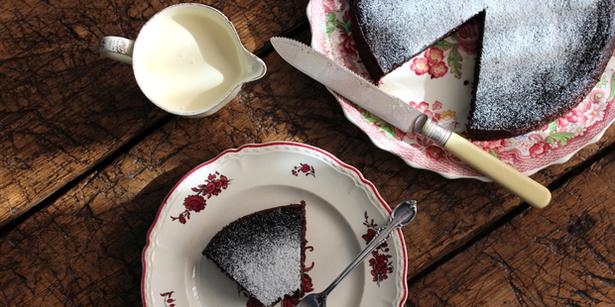 Wednesday July 31, 2013
This deliciously rich and decadent raspberry and coconut chocolate torte contains only nourishing and nutrient rich ingredients, and has the most incredible moist texture. It is naturally sweetened with a little honey and raspberries, and has a base of coconut flour, making it free of gluten, dairy and refined sugar.
Coconut flour is very well priced and works fantastically as a flour alternative. If you have never baked with it before, you must know that it is full of fibre making it extremely absorbent. It needs plenty of moisture, which is why I have used five eggs and a whole cup of fruit in this recipe. Coconut flour is available to buy at all good whole food and organic stores. You could also use one cup of ground nuts in this recipe in place of the coconut flour.
Go ahead, indulge, your body will love you for it.
RASPBERRY AND COCONUT CHOCOLATE TORTE
Serves 8
Ingredients
• 1 cup frozen or fresh raspberries, or fruit of your choice
• 1/4 cup honey
• 1/4 cup extra virgin coconut oil, or unsalted butter
• 5 free range eggs
• 1/2 cup coconut flour
• 1/2 cup cocoa powder
• 1/2 tsp baking soda
1. Preheat the oven to 150°C and grease or line a cake tin with baking paper.
2. In a small saucepan on low heat, melt together the extra virgin coconut oil, and honey. Set aside to cool.
3. Add the raspberries to a food processor. Blend until smooth. Add the remaining ingredients, including the coconut oil and honey. Blend until smooth.
4. Pour the batter in to the prepared cake tin, then bake in the oven for 25-30 minutes, or until a skewer comes out clean once inserted.
5. Leave to cool, before inverting on to a plate.
6. Lovely served with fresh cream, ice cream or natural yoghurt.
- VIVA
* Read more about Eleanor's journey to healthy eating here.
Share this:
More Food & Drink / Recipes