Recipe: Devilled Lamb's Kidneys with Cherry Tomatoes and Radishes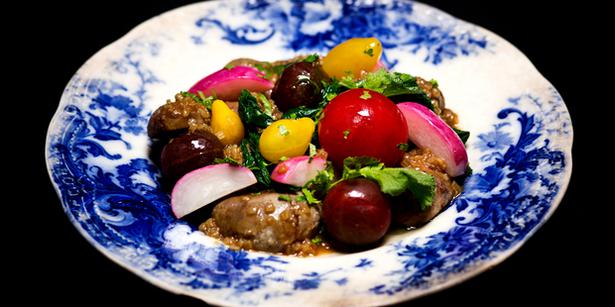 Wednesday March 5, 2014
Devilled Lamb's Kidneys with Cherry Tomatoes and Radishes
Serves 2
• 6 lamb's kidneys 
• 3 tbsp flour
• 1 tsp cayenne (more if you like it hot)
• 1 tsp English mustard powder
• 6 radishes (with leaves)
• 1 tbsp rice bran oil
• 2 shallots, finely diced
• 2 tsp sherry vinegar
• Knob of butter
• 10 cherry tomatoes, whole
• Generous pinch salted capers
• ¼ cup chicken stock
• Chopped flat leaf parsley
1. We'll begin by preparing the kidneys. Place a kidney on its "back" with its "eye" facing up. Slice it in half along its length, then peel the outer skin. Place the kidney on the oard, cut face down. There'll be a small fatty gristly bit sticking out from the "eye". Pin it own to the board with the tip of your nails. Place your knife's blade between your nails and the kidney and then, without pressing too hard on the blade so not to cut through, gently push the knife away from your fingers in a slow sawing motion, dragging the kidney itself along with it but leaving behind said fatty gristly bit.
This might sound tricky but I can assure you it's not. Alternatively, ask your friendly neighbourhood butcher to prepare the kidneys for you.
2. Mix thoroughly the flour, cayenne pepper and mustard.
3. Separate the radishes from the leaves and slice them in half lengthways. Retain the leaves.
4. Have your plates ready. This is going to be quick and you don't want the kidneys sitting in a hot pan. They'll overcook and will be no fun.
5. Heat the oil in a frying pan large enough to hold the kidneys in one layer. While the oil is heating, bathe the kidneys in the seasoned flour and shake them well to remove any excess. A sieve is ideal for this. When the oil is very hot but not smoking, place the kidneys cut face down on the pan and season with salt and pepper. Cook for around 2 minutes and flip. Cook for another minute and now, you gotta be quick.
6. Throw in your diced shallots, stir it up and cook for 30 seconds. Splash in the vinegar and a knob of butter and swirl it all around to melt it. Add the tomatoes, radishes, capers and a bit of salt and swirl again just to frighten the veg.
7. Turn the heat up all the way and add your chicken stock. Let it reduce just a little. Add the radish leaves, one more swirl and on to the plate they go.
8. Serve sprinkled with the parsley and a grind of pepper and your own offal feast is ready. Toasted crusty bread wouldn't go amiss.
Share this:
More Food & Drink / Recipes